China cuts retail gasoline prices 5.5% to reflect cheaper oil and boost the economy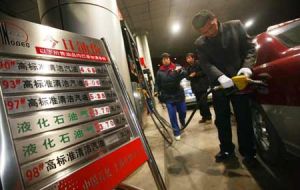 China, the world's second-biggest oil user, will reduce gasoline and diesel prices by the most since 2008 after global crude costs slumped. State-controlled retail gasoline prices will fall by 530 Yuan (83 dollars) a metric ton and diesel will be cut by 510 Yuan, the National Development and Reform Commission, NDRC, the nation's top economic planner, said on its website last week.
The cut is the steepest since the government's current pricing system was introduced in December 2008 and is also interpreted as an attempt by Chinese authorities to contain inflation and stimulate consumption.
However a drop in fuel prices threatens to reduce revenue at China Petroleum & Chemical Corp. and PetroChina Co., the nation's biggest refiners, offsetting cheaper crude costs and extending processing losses that widened last quarter. Brent oil in London, a benchmark grade tracked by China's government, entered a so-called bear market on June 1 after sliding more than 20% from this year's high.
China Petroleum, or Sinopec, had a 16-fold increase in its first-quarter refining loss to 9.2 billion Yuan compared with a year earlier, the company said April 26. PetroChina said its operating loss from processing widened to 10.4 billion Yuan in the three months from 6.1 billion Yuan a year earlier.
A decrease of 530 Yuan a ton, or 24 US cents a gallon, wouldn't fully reflect the decline in crude, according to calculations by C1 Energy, a Shanghai-based commodity researcher. It correctly reported the fuel-price changes on its website Friday before official announcements. Prices should fall by as much as 620 Yuan under government rules, it said.
The cut is equivalent to a 5.5% drop in average retail gasoline prices, based on government data. The NDRC considers adjusting fuel rates when the 22-day moving average of Brent, Dubai and Indonesia's Cinta crude changes more than 4% from the previous revision.