Falklands' referendum has "no value" and does not change Argentina's position
Wednesday, June 13th 2012 - 04:50 UTC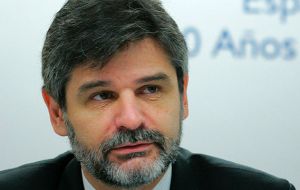 Argentine ruling coalition lawmakers rejected point blank the referendum on the Falkland Islands' political status announced for 2013 by the Falklands elected government, and claimed it was a media stunt to distract attention from Argentine president Cristina Fernandez presentation before the UN Decolonization committee.
"This has no value at all since Argentina rejects the possibility of self-determination for an implanted population, such is the implanted British population in the Malvinas", said Guillermo Carmona, chair of Argentina's Lower House Foreign Affairs Committee.
The unexpected referendum announcement was done on Tuesday from Stanley by MLA Gavin Short, spokesperson for the Falklands elected Legislative Assembly, two days before the thirtieth anniversary of the end of the South Atlantic conflict, when a British Task Force recovered the Falklands Islands from Argentine occupying forces on 14 June 1982, after a 74 day conflict.
There was no immediate reaction from the Argentine Presidency of the Foreign Affairs ministry.
Interviewed by a Buenos Aires radio, Carmona said that the referendum "did not comply with international law" and has "the sole interest of a media effect because tomorrow (Wednesday) we are travelling with President Cristina Fernandez to the UN Decolonisation Committee" in New York.
On Thursday for the first time ever a head of state, Cristina Fernandez, will formally request before the Decolonization Committee, or C24, that the UK complies with UN Resolution 2065 which calls on both sides to open negotiations to resolve the question of the Falklands/Malvinas sovereignty, claimed by Argentina.
"With a media stunt such as holding a referendum, which is an illegitimate exercise of self determination from the Islanders and which Argentina and the international community do not recognize, the UK government wants to downplay the advances of Argentina claim", added Carmona.
Daniel Filmus, chair of the Argentine Senate Foreign Affairs committee said that the so called referendum announced in Malvinas "does not change at all the Argentine position".
"For Argentina the decision to hold a referendum does not change the position of our country which has always been based on the UN resolutions, indicating that sovereignty negotiations must always be resolved through bilateral negotiations with the UK", Senator Filmus was quoted by the Argentine government news agency Telam.
Filmus said that "there is no doubt about the British identity" of the Islanders and argued that Tuesday's announcement "attempts a weak reply to the successes of Argentine diplomacy in all international forums".