Falklands "incredibly disappointed" with Argentines refusal of dialogue invitation
Friday, June 15th 2012 - 19:10 UTC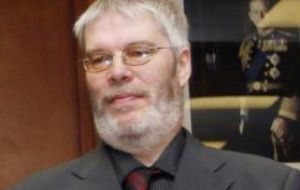 The Falkland Islands Government is "incredibly disappointed" that despite claims from Argentine president Cristina Fernandez, before the United Nations, of "only wanting to sit down and discuss about Falklands", her government rejected point blank an invitation to dialogue.
"We are incredibly disappointed that the President of Argentina refused to accept an invitation from the Falklands Island Government to sit down and discuss the Falkland Islands", said MLA Gavin Short spokesperson for the Legislative Assembly.
Once again "this is representative of the Argentine Government's policy towards the Falkland Islands people - to ignore us, to deny our human rights, and to deny our rights as a people to determine their own future" underlined MLA Short.
According to a release from Gilbert House, seat of the Falklands' elected Legislative Assembly, on Thursday afternoon, following the meeting of the UN Decolonisation Committee in New York, the Argentine president refused to accept a letter from the Falkland Islands Legislative Assembly inviting the Argentine Government to meet and listen to the views of the Falkland Islands people.
Member of the Legislative Assembly Mike Summers closed his address to the UN Decolonization Committee by saying: "I have a letter from the Government of the Falkland Islands, which invites the Government of the Republic of Argentina to sit down and listen to the views of the people of the Falkland Islands, and enter into a dialogue, designed to find ways to co-operate in matters of mutual interest, and to preserve the environment of the South West Atlantic to the benefit of future generations of Falkland Islanders and Argentines, as we did before the on-set of sanctions by Argentina against our people. I invite the Argentine delegation to allow me to approach their table in order to hand over the letter"
Unable to reach President Cristina Fernandez, MLA Summers attempted to hand the letter to the Argentine Foreign Minister Hector Timmerman. Minister Timmerman refused to accept the letter.