Peru announces 28bn dollars in mining projects despite growing social unrest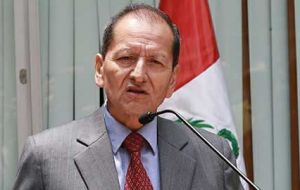 The Peruvian government has approved private mining projects worth 28 billion dollars out of 52 billion dollars of projects planned over the next five years, Peru's Energy and Mines Minister Jorge Merino said.
The minister said that Peru is currently competing with other countries around the world to attract investments in a context of slow economic growth in China and European countries.
"Countries like Chile and Colombia are creating conditions to attract investments," he said.
Merino added that over 75% of private investments in the country goes into mining sector and added that the public should 'close ranks' to protect the industry.
"We cannot grow without investment and we will not have funds to fight poverty if we don't count with private investment" emphasized Merino.
The announcement of the mega investments follows on public opinion polls results indicating that Peruvian President Ollanta Humala's approval rating fell to the lowest level of his mandate in June, 45%, mainly because of the growing social conflicts over the country's mining industry, an Ipsos Apoyo poll showed on Sunday.
Humala popularity shed 5 percentage points compared with May but remains above the 41% approval level he had as president-elect in July 2011.
Peru which is the world's number two copper, silver and zinc producer is the scene of hundreds of conflicts over natural resources, which threaten to halt some of the billions in mining projects planned by the private sector.
Mediating the conflicts - there is usually at least one violent protest a month, with several others brewing - has become the biggest challenge for Humala, who vowed to better living standards for the country's poor majority.
"Social conflicts and the population's sensation of misrule appear to be the main reasons for the fall," said Alfredo Torres, the director of Ipsos Apoyo. "The poll's results show citizens prefer dialogue to solve conflicts, but when the protests snowball, they demand public order be restored."
Even as the national poverty rate has fallen by half since 2004 to 27.8%, many rural communities near mines have been left behind.
One dispute the government has struggled to manage is over US-based Newmont Mining's 4.8 billion dollars Conga gold and copper project. Work on the mine in the northern region of Cajamarca has been on hold since November as townspeople say it would hurt water supplies.
Sunday's opinion survey, published in El Comercio, polled 1.207 people from June 13-15 with an error margin of 4.3 percentage points.