Argentina invites Russia's Gazprom to consider investing in YPF operations
Tuesday, June 19th 2012 - 23:56 UTC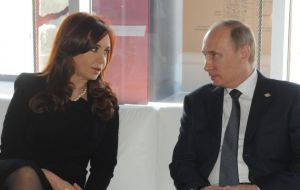 The technical teams of Argentine nationalized hydrocarbon companies YPF and Russia's Gazprom will begin to do joint work in the area, said Foreign Minister Héctor Timerman
The announcement came after a meeting between President Cristina Fernández and her Russian counterpart Vladimir Putin on the sidelines of the G20 Summit in Mexico.
"The President had a bilateral meeting with the Russian president, whom she invited to visit Argentina and thanked for his country's historic support for Argentina's claim over the Malvinas sovereignty," Timerman said.
The minister also said the President told Putin about "the increasing militarization of the South Atlantic region carried out unilaterally by Great Britain."
The Argentine government also announced that during the meeting "both presidents agreed to have YPF and Russia's Gazprom to begin talks in order to conduct joint work in the area".
Meanwhile from Moscow it was revealed that Spain's Repsol, which held a majority stake in YPF until the Argentine government seized 51% of stock, may seek to boost its presence in Russia via its venture with Alliance Oil Co. after the Spanish crude producer lost assets in Argentina, according to the head of the Russian company.
"There is a lot of interest and a lot of joint work to look for new assets in Russia," Alliance Oil Managing Director Arsen Idrisov said on a conference call. "It might be a positive for the Russian market because this was considered as an alternative to Latin American operations of Repsol."
Repsol executives are revising the Madrid-based oil producer's long-term strategy after the Argentine government seized its YPF unit last month. The company is looking to boost oil production and identify new petrochemical deposits to offset the loss of its Argentine assets.
Alliance Oil, listed in Stockholm, and Repsol agreed in December to form a 840 million dollars oil and gas venture focused on production in Russia. Repsol owns a minority stake in Alliance after the 2008 merger of Alliance and West Siberian Resources Ltd., in which Repsol had held 10%.