Uruguay/Argentina agree to 3-month hake ban in the shared maritime zone
Thursday, June 21st 2012 - 16:42 UTC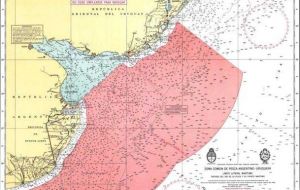 Argentina and Uruguay agreed a ban on hake catching in the shared maritime zone beginning next July first, confirmed on Thursday Uruguayan Aquatic Resources Department (Dinara) sources.
The three-month ban refers to the jointly managed area of the River Plate extending out to the Atlantic Ocean with the purpose of "contributing to the conservation and protection of the resource".
A similar decision was implemented last year and looks "to protect the concentration of the specie's adults and juvenile in reproduction".
In July 2011 Argentina and Uruguay declared that hake in the shared maritime zone is exposed "to a biological risk" and limited the catch to 50.000 tons and committed to implement the same quota catch for 2012, as well as working to impede the over exploitation of the resource to preserve the fishery.
The decision valid until September 30 was first published on Thursday in the Argentine Official Gazette.