UK authorities worried about possible Argentine protests at Games
Monday, June 25th 2012 - 17:43 UTC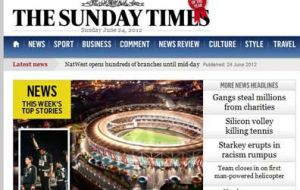 The Foreign and Commonwealth Office in London (FCO) is said to be concerned after receiving intelligence suggesting that Argentine authorities or proxy groups may persuade the country's athletes to use the high profile Olympics stage to show support for their country's claim to the Falkland Islands.
The threat is being compared to embarrassing black power salutes given by some US athletes during the 1968 Games.
According to the story, which was released in the mass market paper The Sunday Times, there is also official fear that nationalist "hooligans" may travel to the London games with plans to disrupt them with prominent protests.
The newspaper quotes a "senior FCO official" as saying, "[We] have been looking into what we can do. They seem determined to push their case at every opportunity."
In the wake of a controversial video showing a prospective Argentine Olympian training in the streets of Port Stanley, and plans to display a map of the Islands with the Argentine flag on the Argentine team clothes, the International Olympic Committee has said that no political gestures or symbols will be allowed.
The Argentine Olympic Committee is said to have accepted this, and said that its athletes will not cause trouble.
By Graham Bound - London