First organized labour national strike challenges President Cristina Fernandez
Wednesday, June 27th 2012 - 08:14 UTC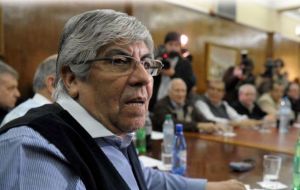 For the first time in decades the powerful Argentine organized labour movement has confirmed it is going ahead with a much debated national strike against a Peronist government, which allegedly rests on support precisely from the unions and a long history of generous labour legislation.
Organized labour chief Hugo Moyano called the strike to demand a higher floor for the income tax scale, a lower income roof for access to family allowance, plus to protest what they consider a deviation of president Cristina Fernandez administration which has taken distance from the unions and has been particularly critical of organized labour involved not in strikes, but "extortion and blackmail" to the benefit of a "few privileged" which ends being paid by the Treasury and taxpayers.
Wednesday's strike with a massive protest march to the iconic Plaza de Mayo in downtown Buenos Aires next to Government House marks an inflection point from when back in 2003, newly elected Nestor Kirchner (and second best because his first contender stepped down) stretched out to Moyano and his unions to help him put Argentina back on its feet.
Moyano and his crucial teamsters union played a leading role and although it was evident that Kirchner and Moyano were only forced partners they learnt to live together. But all changed when Cristina Fernandez rising star made her president and her husband died in 2010. The Kirchner couple was already increasingly fearful of the man who wielded so much power and was always asking for a match to his efforts.
With a prosperous and steaming economy all was fine and liveable but then the unorthodox policies of the Kirchner couple helped to sow the seeds of a huge snow ball of contained prices either forcibly or through subsidies, which has not impeded inflation now running at an average 25%, (in spite of the official less than two digits) and thus the formal demands and motive of Wednesday's protest.
But Moyano and Cristina Fernandez have also a personal clash. She is determined to clip his wings and dependency, which she managed well with a booming economy and a 54% re-election vote last October which made her supreme and for a few months untouchable.
Furthermore in the run-up to the election CFK 'betrayed' the Peronist movement since she personally named the list of Deputies to the Lower House, ignoring organized labour's share and replacing them with more potable "fresh faces" that respond to family and close allies such as La Campora grouping under the guidance of her only son Maximo Kirchner.
This further infuriated Moyano who had also had manifestations of arrogance when he repeatedly stated that, as in Brazil, "why can't an Argentine worker and union leader be elected Argentine president?" let us say in 2015, when CFK time is over and obviously who else but who dared the question.
And as the Argentine economy looses steam because of the global slowdown and many domestic errors, a past of mutual smiles and praise turned sour with Cristina Fernandez openly conspiring to have Moyano ousted as head of the organized labour CGT in the coming July leadership elections. She started giving special attention and favours to Moyano dissenters while blaming the "privileged union leaders" who never suffer from strikes and have comfortable access to the unions' social funds.
Moyano challenged the Argentine president to stamp her signature to the demands of the workers (higher floor for income tax and lower roof for family allowances) in exchange for him not running for re-election as top unions' leader.
With a Treasury already particularly tight, less revenue and higher expenditure would only help to further bloat the budget and spur inflation and thus further complicating CFK and the chances of a mid term comeback for Moyano.
Through his son Pablo who succeeded him a teamsters union leader, Moyano found an excuse to force a three days fuel distribution strike with trucks surrounding refineries and impeding any movement. Cristina on a world lecturing tour in the UN for the Falklands/Malvinas debate; in Mexico for the G20 summit and then in Brazil for Rio+20 had to cut short the last leg and return.
There were some scuffles at a refinery with the Gendarmerie trying to break the siege but the bosses of one of the many teamsters' branches which were in conflict caved in and granted 25% salary increase, a few points short from what was demanded.
And Wednesday is now the great challenge. Moyano insisted in the heat up that "while the Government answered the worker's claims, the relation was normal. Then the Government stopped answering to the workers' claims and the relationship ended". He promised to pack-full Plaza de Mayo with over 150.000 workers making their demands heard.
In anticipation of the big day, the Argentine president Cristina Fernandez in an hour long national televised conference on Tuesday further criticized Moyano saying "one can see that other sectors have been able to resolve their conflicts without confrontation, extortion or blackmail".
She added that in Argentina of the 9 million registered workers (out of a population of 40 million which means many remain unregistered) only 19% pay income tax, the remaining 81% don't make it to the minimum floor. "Striking for a privileged 19% does not seem very much workers' solidarity", so on these numbers "you can seat and wait".
CFK went on to say that it was time for Argentina to address "this habit of preaching and practicing socialism with the monies of the State and the rest of the people, and became a fundamentalist liberal when they pick your pocket, particularly if you want people to keep calling you Peronist"
The President also referred to the labour protests that disrupted operations at Argentina's biggest oil field, Cerro Dragón, in Patagonia in which workers carried out blockades along Chubut province roads, to which border guards were deployed in order to control the situation.
On the way back from containing the unrest in Chubut, the two coaches carrying the border guards crashed head-on with a lorry carrying cereal bundles, killing at least 14 people, including eight guards plus dozens injured.
"With that type of protests and strikes with confrontations you wanted a martyr for your cause, well unfortunately there you have them eight guards doing their duties and helping to restore heating gas to homes in winter".
Finally Cristina Fernandez said that on Wednesday during the rally no federal, special, riot of metropolitan police forces will be deployed in Plaza de Mayo and surroundings, only the usual guards at Government House. The decision could make shops and businesses in downtown shut their windows for the day according to interviews in the Buenos Aires television.
Moyano replied saying that the CGT will have their own security groups deployed, but if any thing happens "we all know who's responsibility that is, the federal government", and "we will take them to court".
Precisely 37 years ago, in the same square but on a Friday June 27, the CGT organized a massive demonstration against a Peronist government then headed by the widow and successor of Juan Domingo Peron, Isabelita Peron. The protest was triggered by a draconian readjustment of prices: fuel went up 180%, the dollar soared 150% and public utility rates 100%.
The huge rally caused the immediate sacking of the Economy minister and a few days later of Peron's valet, the notorious Jose Lopez Rega who had become the main advisor of President Isabel Peron and was identified as the Rasputin of the regime. Argentina at the time was also harvesting ten years of interrupted growth but dilapidated with a bloated budget and subsidies that ended crushing the real economy.
Players are different, there is more talent and maturity, political dialogue is more civilized and the economic circumstances of Argentina according to some of the top economists of the country are still manageable. Furthermore democratic values are well rooted, there is ample freedom of expression and free press and the country survived two anticipated transitions: in 1989 and again in 2002.
Nevertheless it helps the mind recall that on 27 June 1975, a huge labour strike and protest in Plaza de Mayo against an exhausted Peronist government weakened the whole institutional framework that less than a year later succumbed to one of the cruellest military regimes in recent history.