Moyano accuses Cristina Fernandez of arrogance, extortion and keeping workers' monies
Thursday, June 28th 2012 - 08:09 UTC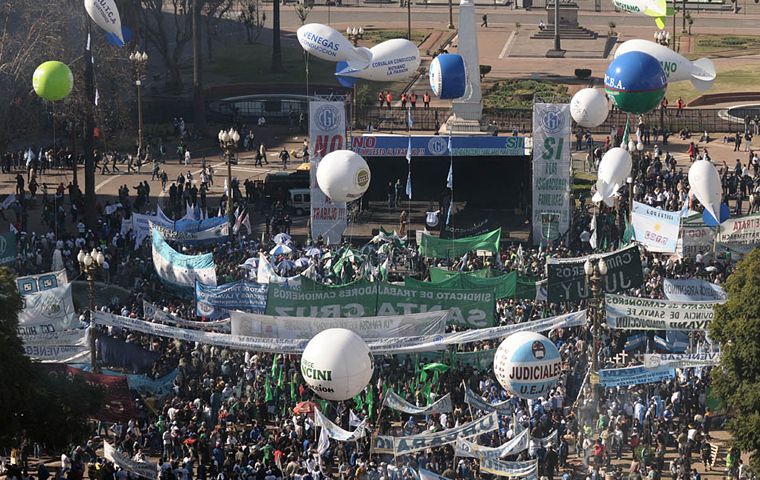 Argentina's chief of the powerful CGT Labour Confederation Hugo Moyano blasted President Cristina Fernandez and her government during a massive rally Wednesday in the heart of Buenos Aires at the highly symbolic Plaza de Mayo.
Moyano was particularly incisive on the government's approach toward workers and accused President Cristina Fernández administration of "extortion" and of "keeping workers' money".
With his back turned towards the Government House and in front of some 50.000 workers (according to the teamsters union) or 25.000 (according to the police), Moyano slammed the president and accused her of being "too proud, arrogant" and of "acting as if she were in a dictatorship," far from the supposed "national and popular" values of Peronism.
"Some think they can replace Perón and Eva Perón and that is absolute insanity," he stated, adding that Peronism "is not empty words but actual accomplishments."
But Moyano also called for dialogue and unity and said relations with the government are broken because "government gave its back to the workers movement and ceased to talk to workers' unions".
However he also attacked the Kirchner couple, probably in retaliation for rumours spread by Government House indicating that during the military dictatorship the union leader was a member of a "gang of paid goons that hunted dissidents".
The union leader said he couldn't remember him doing such a thing much less for a military dictatorship, and the pictures "shown are hard to distinguish a slim, black haired, handsome Moyano".
But at the time yes "there were many Argentines who had to run for exile, many overseas but some to Patagonia, where they made a lot of money with foreclosures of people's homes unable to pay their mortgages based on a vicious piece of resolution, number 1050, to be more exact, that left many Argentine workers without homes and helpless under the military dictatorship".
Similarly many faces "I see in this administration I remember that at the time they were silent or hiding under the bed, while we workers were fighting for our rights, the return of democracy and human rights".
The CGT leader was the only speaker at the rally during the national strike in Argentina led by the teamsters union and others allied to the umbrella unions' organization CGT, as they demanded a hike on the income tax floor and the expansion of coverage for the universal child allowance.
"Isn't keeping the workers' money an extortion?" he wondered, and assured that many workers had complained about being pressured into not joining the strike.
"They keep your money, comrades," he said as he fired up the crowds in front of him. "I hope they are not using that money to subsidize bingos or casinos," he added.
He urged the President to "leave arrogance behind" and work "humbly" in order to accept a dialogue with the workers' movement so they can engage in an "exchange of opinions" and finding solutions that are not imposed but agreed upon.
Furthermore, Moyano emphasized "how can it be that a government that is supposedly democratic act in this way?" How come "we are living in a country where the workers are being attacked by its government?"
The downtown area of Buenos Aires City was filled to the brim with union members carrying out marches from across various different sectors, grouping together to attend the mass rally led by top teamster and CGT boss.
Because of the massive demonstration Buenos Aires City suffered traffic chaos throughout the course of the day, due to the roadblocks in place ahead and during the mass rally.
On Tuesday during a televised speech at the Government House, President Cristina Fernández criticized Moyano and said that Border Guards would not be deployed to patrol the Plaza de Mayo during the CGT rally. Wednesday morning, however, some police presence was in place at Plaza de Mayo as well as some members of the riot police.