Brazil farmers rush to cash soy exports on high prices and favourable exchange rate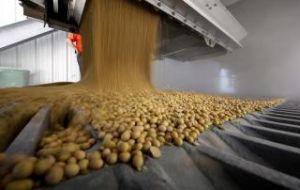 Brazil could soon run out of soybeans to export this year after farmers' frontloaded their shipments more than normal to cash in on high international prices and a favourable exchange rate.
The world's No. 2 supplier of the oilseed shipped out 18.53 million metric tons of soybeans in January to May, up 37% from a year earlier and a record for the period, preliminary data from Brazil's trade ministry show.
The increase came even as a drought in southern regions of the country reduced the size of the 2012 crop by about 12% from last year to 66.37 million tons, according to government crop agency Conab.
Because the Southern Hemisphere's planting schedule is opposite that of the U.S., the top soybean producer and exporter, Brazilian farmers usually get most of their exports to the market by midyear.
The strategy allows farmers to earn a premium on the product ahead of the U.S. harvest and to avoid storing it for long periods at high local interest rates.
A combination of factors has exaggerated that tendency in 2012.
The weak crop in key South American exporters and robust demand from China squeezed the international soybean market, which broke a trend from other, slumping commodities to hit a four-year high in early May.
Meanwhile, Brazilian authorities, facing a second straight year of sub-par economic growth, undertook a series of measures in the first quarter to weaken the local currency in a bid to help manufacturers and exporters.
The Real losses steepened in April when the European debt crisis deteriorated, and the currency set a three-year low against the dollar in May, making soybean exports even more lucrative.
"Brazil at this moment has taken advantage of the market conditions and will need to adjust over the rest of the year," said Fabio Trigueirinho, president of soy-industry association Abiove.
"This will be reflected across the industry, which will export less soy-meal and less soy-oil, will crush less and will mainly export less raw product."
Leonardo Menezes, a soy analyst at local consultancy Celeres, said Brazil probably doesn't have more than 12 million to 13 million tons of soybeans available for export over the remainder of this year.
Most of the volume should be concentrated in June and July, after which it will dry up quickly, he said.
Exports of soybeans, soy-oil and soy-meal together brought 24.15 billion dollars into Brazil last year, accounting for 9% of the country's total exports and ranking No. 2 behind iron ore.
Win Thin, a currency strategist at Brown Brothers Harriman in New York, said the likelihood that soy shipments will slow to a trickle by the end of the year raises yet another question for Brazil's currency.
"Decent trade numbers are one of the few things that have been keeping the current accounts in pretty good shape," Mr. Thin said. (Farming News Daly).