"Argentina will be responsible for the end of Mercosur" claims top Brazilian businessman
Monday, July 2nd 2012 - 01:00 UTC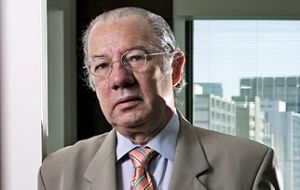 Brazilian businessman Rubens Barbosa, head of the foreign trade council of the Sao Paolo Federation of businessmen said on Sunday that in the last six months, the Argentine presidency of the bloc implemented measures that practically killed the Mercosur.
"Argentina will be responsible for the end of Mercosur," he predicted.
Barbosa added that restrictive measures, trade barriers, higher tariffs to products are against what the accord had stated. Argentine and Brazilian businessmen suffer "as products are halted during months in our borders."
Barbosa clarified "I'm not speaking on behalf of the Government but of the private sector. Restrictions affect companies with Brazilian capitals and Argentine productions. I'm not surprised that Brazil is implementing measures against Argentine imports."
"For Mercosur the best is opening the block to business" added Barbosa, who also questioned the incorporation of Venezuela with no negotiations.
"Mercosur has become a political forum rather than a trade one. And this concludes with Venezuela becoming a full member without a concrete negotiation, which is rather strange"
Barbosa added that he wasn't surprised the meeting of Argentine Secretary of Commerce Beatriz Paglieri and her Brazilian counterpart Tatiana Prazeres had ended in a "shouting contest" as was indicated by the Argentine press.
A former president from the Argentine Industrial Union, Hector Mendez also appealed to the two countries "to sit and dialogue" so as to overcome the trade differences.
The complaints from both the Argentine and Brazilian business lobbies followed a frustrated meeting parallel to the Mercosur summit between Paglieri and Prazeres, which according to Clarin ended in a "shouting match" and forced discussions at ministerial level which were also unable to reach an understanding on the reciprocal trade barriers and delays of loaded trucks in the border.
However the Argentine Foreign Ministry in an official release said that "once again it was obliged to deny Clarin" on a piece published under the heading, "Argentina/Brazil trade barriers meeting ends in a scandal".
"The truth is that the three meetings between the two delegations (Argentina and Brazil) during the Mercosur summit had a successful outcome for the deepening of bilateral trade".