Cristina Fernandez calls on regional unit to neutralize the global crisis
Monday, July 2nd 2012 - 06:11 UTC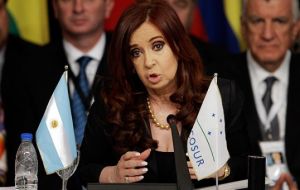 President Cristina Fernández took to her Twitter account to say that "the fundamental goal in the unity of the region must be to make sure that the global crisis has the less kind of possible impact in the development of our nations."
Cristina Fernández summoned the entire region to "become more united" in order to face a crisis that emerged "in the rich countries", in what seemed an attempt to neutralize the backlash from the latest controversial Mercosur summit.
"Our commitment is to have integration be even deeper because this is what has allowed us to grow," she tweeted.
"Maybe many will think that most of our discussions in the Mercosur summit were related to the situation in Paraguay, but in fact most of them were about the need to further expand regional integration."
"We discussed the need to join forces to face a crisis that is coming from abroad, coming from the rich countries," she explained.
She also mentioned the Mercosur recent decision to accept Venezuela as a joining member of the trading bloc after July 31st in Rio de Janeiro and that both the Mercosur and Unasur will accept the will of the Paraguayan population after they have participated in "free, popular and democratic elections."
"We've decided we will not apply any sort of economic sanctions on Paraguay because our goal is to improve the quality of life of our peoples," she emphasized.
Meantime is was announced that Argentine Domestic Trade Secretary, Guillermo Moreno, and Foreign Trade secretary, Beatriz Paglieri, left Buenos Aires on Sunday for Azerbaijan, heading a business delegation. The Caucasian nation has experienced a strong growth in recent years thanks to its hydrocarbons sector.
Likewise with two recent visits to oil-rich Angola in Africa, the goal this time is to exploit new trade and investment opportunities with a country whose GDP exceeds 64 billion dollars, an estimated 7.000 dollars per capita, according to sources from the Domestic Trade Secretary.
The Argentine delegation is completed with over 200 entrepreneurs from different sectors, as well the Governor of La Rioja, Luis Beder Herrera, and deputy-secretaries from the Ministry of Agriculture and will be in Baku until July 4.
The Business Affairs representative at the Azerbaijan embassy in Buenos Aires, Ruslan Rzayev, said: "We are highly interested in receiving Argentine companies to explore new possibilities of increasing bilateral trade."