Argentina extends incorporation deadline for 20 new jiggers to end of August
Tuesday, July 3rd 2012 - 23:09 UTC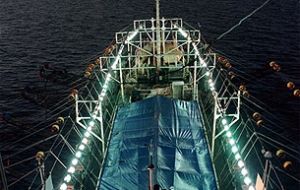 Argentina's Federal Fisheries Council, (CFP), has decided to extend the deadline for fishing companies interested in presenting projects for the incorporation of jiggers to the authorised fleet, which currently consists of 85 vessels.
The closing date for projects for capturing squid (Illex argentinus) with jiggers was extended from July 16 to August 31, so as to achieve "the broadest attendance possible of those owners interested in participating in the meeting."
The presentation must be made before the Argentine Directorate of Fisheries Coordination from the Under-Secretariat for Fisheries and Aquaculture belonging to the Ministry of Agriculture, Livestock and Fisheries (Minagri).
Applicants must meet the following requirements: Accreditation for the last five years preceding the application of their owners capacity with a certificate issued by the Argentine Coast Guard; Being owner or member of a holding company that has an industrial processing plant onshore with appropriately registered staff or that has an agreement with the holder of an industrial processing plant onshore with duly registered personnel; Proof of payment of the fee established; Submission of an affidavit with the requested information and documentation and finally the project must contain a commitment to reprocessing on land, no less than 20% of total catches.
The CFP also stated that the presentation of the project will be subject to the payment of a fee of 100,000 Argentine Pesos (22.000 US dollars) or Pesos 200.000 (44.000 dollars) for each vessel.
A maximum of two jiggers may be submitted per project and per company. Vessels approved by the CFP should be incorporated to the national roll and if not have until 15 December, 2012 to comply. The total number of jiggers to be incorporated according to this project is twenty. (FIS/MP).-