Brazil June inflation lowest in two years helped with temporary tax breaks
Saturday, July 7th 2012 - 05:27 UTC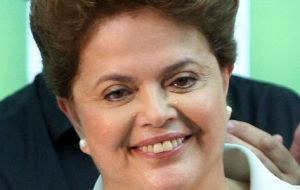 Brazil's inflation slowed to its lowest in almost two years on temporary tax breaks for autos, paving the way for more interest rate cuts as the government tries to revive economic growth.
Declining fuel and electricity costs also pushed inflation down, adding to evidence of very tame inflation in Latin America after surprisingly weak figures in Peru and Chile.
Brazil's benchmark IPCA consumer price index rose 0.08% in June, the lowest monthly reading since August, 2010, and slightly below analysts' forecasts, government statistics agency IBGE said on Friday.
In the 12 months through June, the IPCA index rose 4.92%, the slowest pace since September, 2010. Trailing 12-month inflation ended 2011 at a seven-year high of 6.5%, but it has since edged closer to the center of the government's target of 4.5%.
Easing inflation has given Brazil's central bank room to slash its benchmark rate from 12.5% in August to a current record low of 8.5%. The bank is expected to deliver more cuts in coming months to boost economic activity.
Brazil, which passed Britain last year to become the world's No. 6 economy, is on track for its weakest economic performance in three years as factories struggle to cope with a global slowdown and rising local costs.
Anxious to revive growth, President Dilma Rousseff's administration has combined lower interest rates with tax breaks for targeted industries and consumers, as well as an increase in government purchases of industrial goods.
One of Ms Rousseff's stimulus measures has also helped curb inflation. Transportation prices fell 1.18% following a decline of 0.58% in May as car makers cut prices following tax breaks for some vehicles until Aug. 31.
Fuel prices also declined, albeit with a smaller drop of 0.51% in June compared to the 0.64% fall in May. Electricity prices declined 0.67% in June, reversing a rise of 0.72% in May, while apparel rose 0.39%, after gaining 0.89% in the prior month.