Canadian cowboy plans to ride 16.000 kilometres and reach Brazil in 2014
Monday, July 9th 2012 - 18:32 UTC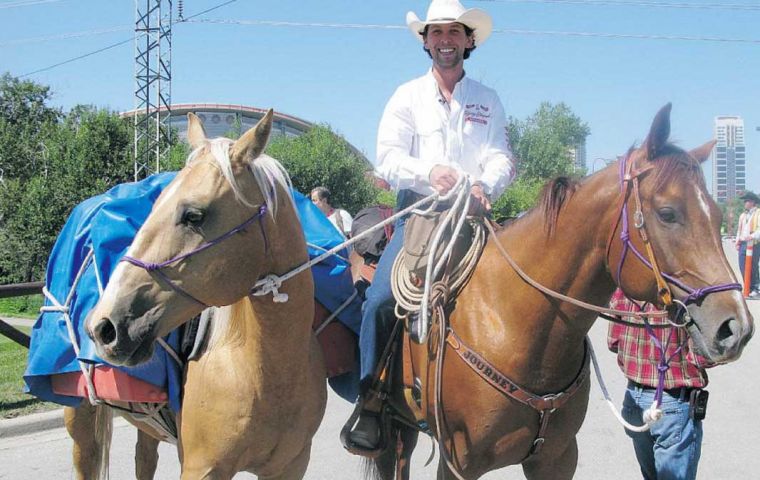 A Canadian cowboy hopes to join the ranks of the long riders as he rode out of Calgary, Alberta on Sunday for an epic journey to his birthplace in Brazil. Filipe Masetti Leite intends to spend the next two years riding his two horses, "Bruiser" and "Frenchie," through 12 countries in North, Central and South America.
Leite, 25 who immigrated to Canada when he was a teenager is expected to eventually cover about 16,000 kilometres and reach his final destination in 2014.
"My mom is very worried obviously. She says she's going to have to take some sedatives for the next two years to try and sleep at night" Leite told reporters on a bright, sunny morning just outside the city's Stampede grounds.
"It just feels right. We're a family that moves on instinct, we move on feeling and if it felt wrong I wouldn't do it."
Leite's family returned to Sao Paolo, Brazil, seven years ago and will meet him at the end of his journey. The young cowboy, who has a journalism degree from Ryerson University in Toronto, intends to document his travels.
"Today I set out on what I believe will be one of the most epic journeys of the 21st century," said Leite, who is travelling alone, with just his two horses for company.
"The whole point of this trip is to point out what's going on in Latin America — the illegal drug war. Eighty eight per cent of the drugs produced in Colombia and Central America are going straight to the streets of the US. There's a lot of innocent people dying down there so I feel if something does happen to me it will help bring light to something that is so hypocritical."
Leite is also hoping to find people, projects and NGO's that are having a positive impact within their communities.
He intends to camp between rides and depend on the kindness of strangers — farmers and ranchers along the way — who won't mind him and his two equine friends spending a night or two.
Leite realizes a journey as long as his will be difficult for both the horses and him. "The idea is we found two really strong quarter-horses, they have big bones, big feet, athletic horses and we do it very slowly".
"We only ride, on average, 30 kilometres a day, only four to five days a week, there's a lot of resting time. If one of the horses is sore, we wait. If the horse is sore beyond a month, we trailer him ahead and ride the other one until he is feeling better."
The inspiration for the trip is based on a similar quest in 1925 by Aimé Tschiffely, a Swiss schoolteacher who rode 16,000 kilometres alone from Buenos Aires to New York City.
"This dream was born when I was very young. My dad learned of a Swiss school teacher who rode two horses from Argentina all the way to New York," Leite said.
"My father had a dream of doing a journey like that but was never able to, so in a way I'm kind of fulfilling both of our dreams", he concluded.