RAF renewing air transport fleet: in 2014 begins incorporation of A400M Atlas
Monday, July 9th 2012 - 05:28 UTC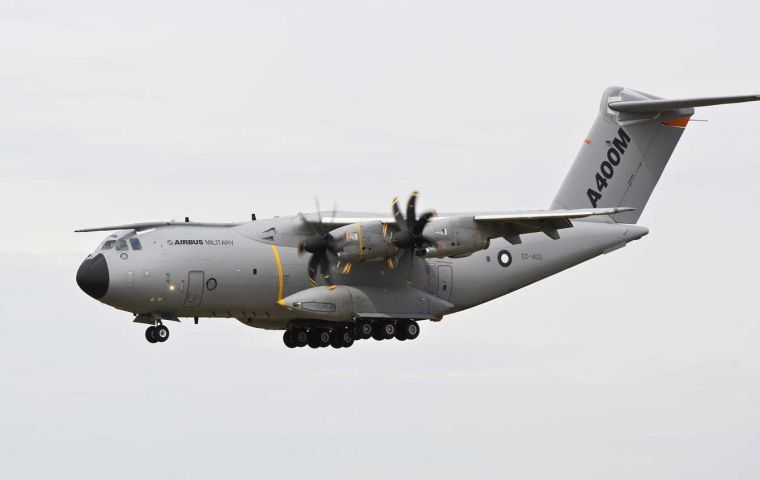 The Royal Air Force next generation military transport aircraft has been officially named as Atlas. The aircraft, which has until now been known as the A400M, will replace the RAF's existing C130 Hercules fleet and along with the Voyager and C-17 will provide the UK military's future air transport force.
The UK is buying 22 of the cutting edge aircraft from Airbus Military and the first Atlas is expected to be delivered to the RAF in 2014. Able to carry twice as much as the Hercules, Atlas can transport 32 tons of cargo over a range of 4,500 km, providing unprecedented capability to support the UK Armed Forces.
It can move up to 116 paratroopers, large armoured vehicles such as Mastiffs as well as vast amounts of humanitarian and disaster relief. The aircraft's ability to land on semi permanent runways and rough ground mean Atlas can fly its cargo into the centre of operations, supplying tactical forward bases or evacuating causalities or refugees.
The aircraft was officially named in a ceremony last week at the Royal International Air Tattoo, at RAF Fairford in Gloucestershire attended by representatives of the MoD and RAF.
Minister for Defence Equipment, Support and Technology, Peter Luff said: "Atlas will be a uniquely capable aircraft and will provide both tactical and strategic airlift capabilities for use in peace, crisis and war. The name Atlas reflects the potential of this mighty aircraft to provide help and support to our armed forces and others in need across the globe.
"The program is a good example of how European partners can work together to deliver world-class military capability."
Chief of the Air Staff Air Chief Marshal Sir Stephen Dalton said: "Atlas will offer a step change in the Royal Air Force's capability and with its significant payload it will be able to transport every type of UK Protected Mobility Vehicle directly to where they are needed as well as supporting forces on the ground through significant tactical air drop.
"Atlas together with the C17 Globemaster, C130 J Hercules and the new Voyager aircraft, now entering service with the RAF, will give us the ability to rapidly move people and equipment around the globe for military and humanitarian operations for decades ahead."
The Airbus A400M Atlas is a multi-national four-engine turboprop military transport aircraft. It was designed by Airbus Military as a tactical air-lifter with strategic capabilities. The aircraft's maiden flight, originally planned for 2008, took place on 11 December 2009 in pain.
As of July 2012 the A400M is undergoing flight testing. Orders totaled 174 aircraft from eight nations as of July 2011. Airbus Military is expected to deliver the first aircraft in early 2013.
The A400M is positioned as an intermediate size between the Lockheed C-130, and the Boeing C-17.