Defence minister Puricelli: Argentina's Malvinas sovereignty claim is a regional commitment
Tuesday, July 10th 2012 - 05:27 UTC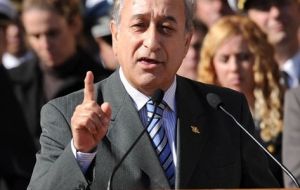 Argentine Defence minister Arturo Puricelli said that in the same way "the independence of the Argentines is the independence of the region", the defence of Argentina is also the defence of the region and in this framework of integration Argentina's sovereignty claim over the Malvinas Islands is a regional commitment.
In his Independence Day (Monday July 9) message to the Armed Forces, Puricelli underlined the "advances in regional integration, the constitution of the Union of South American Nations, Unasur, Defence Council and the decision to establish the region as a zone of peace".
"We've given great strides in the conviction that today the independence of the Argentines is also the independence of the region" just like our heroes at the beginning of the XIX century.
"We've also created the Centre for Strategic Studies on Defence that will help build a regional line of thinking adequate to our defence necessities" said the minister who also underlined the confidence building measures adopted in the region among Unasur members.
The measures include "the exchange of information relative to the defence systems of each country; on the number of troops and equipment; cooperation accords with countries from inside and outside the region and on defence expenditure".
"We must also underline the commitment from our Unasur brother-countries in support of Argentine sovereignty over the Malvinas Islands" which is part of the achievements in those pages of history and that"we have been chosen to write in the book of national independence".
Likewise Puricelli mentioned the National Defence System integral modernization project which has completed the "planning cycle" capacities which will enable to elaborate the design and deployment of a military instrument apt for times ahead of us".
The minister underlined the efforts to recover the technological and scientific capacity for Argentine Defence supported in the strong context of the implementation of a national policy for industrial development.
Puricelli mentioned as examples of this policy the recovery of the Naval Industrial Complex which includes the shipyards of Tandanor and Almirante Storni where the repairs of the submarine ARA San Juan and the icebreaker Almirante Irazar are very advanced. He then mentioned the manufacturing of radars in Rio Negro and the Military Factories.
The Argentine minister spent last week on an official visit to China where he met with his counterpart Liang Guanglie and signed several agreements on defence and military cooperation.
Puricelli was also invited to visit China's main naval base in Shanghai where he underlined the new strategic relation between China and Argentina.
With the head of the Chinese Navy, Admiral Wu Shengli, Puricelli said Argentina was interested in exploring technological assistance to replace the country's naval equipment which "is still mostly of British origin".