Argentina has three annual inflation estimates: 9.9%; 23.96% and 30%
Saturday, July 14th 2012 - 01:22 UTC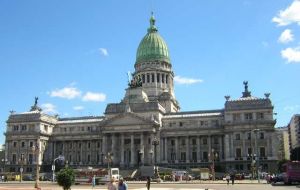 Argentina's government reported Friday that consumer prices rose by 0.7% in June. The estimate, published by national statistics agency, Indec, indicates that in the first half of 2012 inflation reached 5.1% and 9.9% in the last twelve months.
However Indec economic data have been suspect ever since a staff shake-up at the agency in early 2007 saw long-serving professional civil servants replaced by political appointees.
Last year, President Cristina Fernandez government levied heavy fines, and in some cases criminal charges, against several economists for publishing inflation estimates that were significantly higher than what Indec reports.
On Thursday, opposition congressmen released a monthly survey of inflation estimates provided by private-sector research firms showing that consumer prices rose 1.63% on the month in June, and were up 23.96% on the year, according to the average estimate of more than 10 contributors.
The members of the Freedom of Expression committee from the Lower House of Congress said that "inflation remains the central problem of the Argentine economy.
"Every month more and more entities, government offices and provinces request the information among which even the Ministry of Economy", revealed lawmaker Patricia Bullrich.
Another lawmaker Ricardo Gil Lavedra said that the monthly release is to make public the censored inflation index, "which the government is capriciously intent in covering up".
The average forecast in the central bank's survey for the month-on-month rise in Indec's CPI was 1.1%.
The Cristina Fernandez administration has made economic growth its top priority even as inflation causes increasingly serious distortions throughout the economy. Indeed, government officials almost never even mention the word inflation out of fear that Argentines will react adversely to this.
Still, businesses are under pressure from rising materials costs and double-digit wage increases demanded by the country's heavily unionized work force.
In a worrisome sign, 12-month inflation expectations held steady at 30% for a fourth consecutive month in a closely followed monthly survey published in June by the respected Torcuato Di Tella University.
Many economists say Argentina has entered into a period of stagflation, in which economic growth is slow or nonexistent while prices continue to rise at a quick clip. Others say the economy is already in a recession.