Iconic Falklands' veteran Vulcan opened Farnborough Air-show
Monday, July 16th 2012 - 14:51 UTC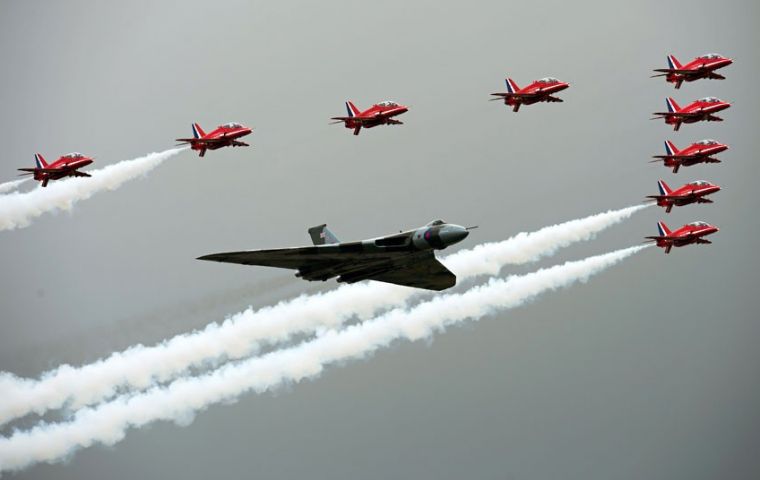 Britain's Farnborough International Air-show opened last week with a joint flypast of the Red Arrows and the world's last airworthy Avro Vulcan bomber XH558 commemorating the 30th anniversary of the Falklands War.
A relic of the Cold War, the historic aircraft was the first of its kind to be delivered to the RAF, in July 1960, took part in the historic Black Buck bombing raid on Stanley Airport in 1982 and was the last Vulcan to leave RAF service in 1993.
The Operation Black Buck raids were staged from Ascension Island and since the Vulcan lacked the range to fly to the Falklands there were refueling several times. RAF tanker planes were mostly converted Handley Page Victor bombers with similar range, so they too had to be refueled in the air. A total of 11 tankers were required for two Vulcan, a huge logistical effort as all aircraft had to use the same strip.
The raids, at almost 15.000 kilometers and 16 hours for the return journey, were the longest-ranged bombing raids in history at that time.
Of the five Black Buck raids, three were against Stanley Airfield, with the other two anti-radar missions using Shrike anti radiation missile.
Now, the bomber named 'The Spirit of Great Britain' is a favourite with aviation enthusiasts everywhere and is the result of the work of a dedicated team determined to keep her in the air.
The engineering staff of the Vulcan Operating Company worked to return the Vulcan to flight, with the first test flight taking place on October 18, 2007.
On August 1, 2006 it was feared the project was in danger of being abandoned due to lack of finance but the target of raising the remaining £1.2m was achieved 30 days later, thanks to a high-profile publicity campaign orchestrated by the supporters club, Vulcan to the Sky Club.
Time had almost run out for XH558 when Sir Jack Hayward, a British philanthropist, donated £500,000, which topped up the £860,000 already raised by Vulcan to the Sky Club and friends.
Sir Jack Hayward was also a benefactor of the Falklands soon after the War when he donated funds towards the restoration of the hospital.
The funds were used for building the sheltered accommodation on Thatcher Drive which is named in his honour. (PN)._