"Informal" and "blue" dollar in Argentina soars to 6.60 and 6.78 Pesos
Wednesday, July 18th 2012 - 08:30 UTC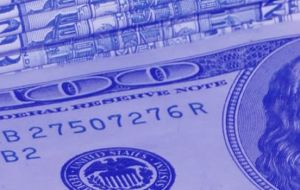 Argentina's Peso sank in informal trade on Tuesday due to intense demand for US dollars from anxious savers and holidaymakers dodging the government clamp on international currency purchases.
The so-called blue, or informal market, has become the only option for most Argentines who want to buy dollars since the government effectively banned purchases at the official rate, according to money exchange houses.
Argentine President Cristina Fernandez, battling capital flight and trying to keep dollars in the country to use for government debt payments and imports imposed controls on foreign currency purchases late last year which have since been tightened considerably.
Business groups have long objected to President Cristina Fernandez's state-centric policies. Local investors are also watching the financial difficulties in Buenos Aires province the country's largest and an engine of the national economy.
Governor Daniel Scioli, seen as potential market-friendly successor to the president, is under intense pressure from trade unions and from the administration of Cristina Fernandez who are now intent in clipping his wings and ambitions.
The clash has gone as far as the federal government denying sufficient funds to pay for salaries and investments, even when the province is a powerhouse in agriculture and manufacturing and the main contributor to the highly centralized tax revenue system.
Scioli was publicly reprimanded by the president and some of her ministers saying the governor should learn to better manage scarce funds, and a judge ordered him to pay June salaries and the July bonus fully and not in instalments as he had offered.
The increasingly tight controls on buying dollars are also forcing holidaymakers to pay a premium in the black market as the AFIP tax agency as demand far exceeds the amount allowed to be bought at the official rate.
"The $100 dollars (per day) that the government lets you buy for holidays isn't enough to go abroad with a family," another currency trader said.
Persistent demand for dollars, coupled with the stricter controls, is causing a widening of the spread between the formal and informal markets.
The spread reached 45% on Tuesday as the informal dollar jumped to 6.60 pesos, according to the ask price. In regulated inter-bank trade, the currency slipped 0.11% to end at 4.5525 pesos per dollar.
In the blue-chip swap market, which sets the implied exchange rate used to buy Argentine assets traded abroad, the peso traded at 6.78 per dollar, traders said. That marks a 49% spread above the formal price.
The currency controls are fanning a rally by dollar-denominated Argentine bonds as Argentines rush to dollarize their portfolios, Credit Suisse said in a research note.
"We expect the ongoing dollarization of portfolios by local investors to continue as restrictions on access to foreign exchange seem likely to be permanent rather than temporary," it said.