Wave of anti-mining protest about to knock out another Peruvian cabinet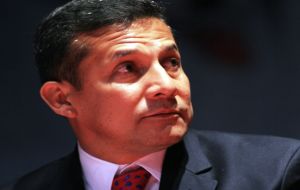 Peruvian President Ollanta Humala has begun sounding out replacements for his prime minister as part of a widely expected Cabinet shuffle designed to calm a wave of violent anti-mining protests in one of the world's leading exporters of minerals.
"Changes will be made at the right time - not before or after," Humala told reporters on Tuesday, declining to say when the shuffle would take place.
Martin Vizcarra, president of the southern region of Moquegua, told reporters he was offered the prime minister's post after meeting with Humala on Monday but doesn't plan to accept it.
"The offer is flattering but I'm going to stay in my current job," Vizcarra said. He did not name other politicians under consideration by Humala's office for the prime minister's position.
A government official who declined to be identified said Prime Minister Oscar Valdes would leave in a matter of days. Critics have blamed Valdes for a crackdown on protesters opposed to Newmont Mining's 5 billion dollars Conga project in the northern region of Cajamarca that killed five people this month.
Prominent members of Congress have called for PM Valdes to step down and say the government should emphasize mediation instead of force to solve environmental disputes.
Vizcarra was part of a negotiation team that resolved disputes over water and forged community backing last week for Anglo American's 3 billion dollars Quellaveco copper mine.
Construction on the Quellaveco mine is likely to start this year and would allow Humala to claim a victory after failing to curb eight months of protests against the Conga project.
Humala has sought to push ahead with more than 50 billion in planned mining investments in one of Latin America's fastest-growing economies. Peruvian leaders often shuffle their Cabinets on July 28, Peruvian Independence Day, which also will mark the anniversary of Humala's first year in office.
Humala replaced half of his Cabinet in December, when he promoted Valdes from interior minister to prime minister as he sought to quell protests with a firmer, more law-and-order tone. Both Humala and Valdes are former military officers