Argentines main concern insecurity, but also greater satisfaction with democracy
Thursday, July 19th 2012 - 20:50 UTC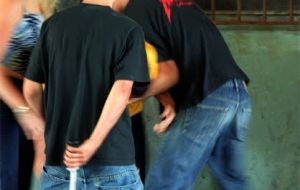 The main concern of Argentines is insecurity, followed at a distance by poverty according to a public opinion poll released this week in Buenos Aires, which also revealed that one out of three interviewed had been victims of some kind of criminal activity.
The Argentine Catholic University Social Debt Barometer poll showed that 36% of Argentines indicated that the lack of security (and rampant criminality in some urban areas) is top concern followed by poverty and education with ratings of 16.4% and 14.8%.
Unemployment, 11.6%, inflation, 7.6%, corruption, 6.9% and the economy, 6.7% completes the list, according to the Social Debt barometer.
The ongoing survey which covers the period from 2007 to 2011, with a sample of 5.712 homes in 17 main urban areas of Argentina, confirm that fear originated in insecurity has climbed 9.7 points during that period.
Likewise four out of ten households claim that in their area there are problems linked to drugs' trafficking.
On the other hand Argentines satisfaction with the performance and functioning of democracy during that four year period has jumped 21 points. But a majority, 60%, believes that in Argentina equality of access opportunities to a good education as well as a decent job and housing are absent.
Another 40% said that full freedom of expression is yet a goal to be achieved.