US dollar reaches new high in Argentina: 6.80 Pesos
Thursday, July 19th 2012 - 08:18 UTC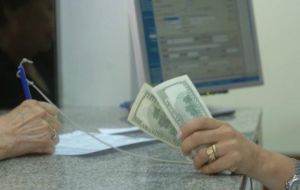 The US dollar reached a new high in the Argentine informal market during Wednesday trading at 6.74 pesos, 25 cents more than on Tuesday while the gap with the official exchange rate jumped to 47.2%.

According to a quick survey by the Buenos Aires media most of the demand came from small buyers with plans to travel abroad, but anyhow "operations were rather few since it is expected the greenback price will continue to climb the rest of the week".

"This week also marked the beginning of winter holidays in Buenos Aires City schools and many families have plans to fly abroad and the sum available for travellers at the official rate is insufficient" said a money exchange house.

Meanwhile the official dollar at exchange houses and banks, with the many restrictions imposed on its trading, remained at 4.535 and 4.58 Pesos.

Market experts believe that although many travellers and others wanting to protect their savings will be exercising a strong demand on the greenback, the influx of dollars should begin to trickle at a faster pace as exporters begin to cash their hard currency from sales of grains and oil seeds.

This month the Argentine government taking advantage of the international bull prices liberated 15 million tons of maize for export.

"Even when the volume of dollars from exports is not exuberant , anyway it will be enough to supply the weak domestic demand and allow the Central bank to accumulate the necessary international reserves" to meet other commitments such as imports and sovereign debt payments.

So far this month the official dollar in Pesos has strengthened 0.99% and at the informal market, 13.7%.

Likewise the sovereign Boden 2012 and which the Argentine government has repeatedly promised to cancel when it matures next month has risen so far this month 5.83% and is selling at 687 Pesos, which means an implicit exchange rate of 6.87 Pesos to the greenback.