Mercosur Review Tribunal rejects Paraguay's demand against suspension
Monday, July 23rd 2012 - 09:23 UTC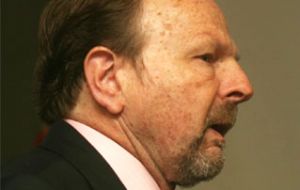 Mercosur Standing Review Tribunal rejected Paraguay's demand against its temporary suspension from the trade and integration group and the inclusion of Venezuela as a full member.
According to the tribunal's resolution which was adopted on Saturday but only announced on Sunday, the July 9 presentation does not give rise to a demand. The resolution said that the case will not be considered since the needed procedural instances for the presentation of controversy cases had not been complied.
The demand was presented by the administration of President Federico Franco who replaced Fernando Lugo, removed from office a month ago following a summary impeachment by the Senate, but following constitutional procedure.
The Tribunal which sits in Asuncion is made up of two members from Brazil and one each from Argentina, Uruguay and Paraguay.
The Paraguayan Foreign Affairs ministry, through one of its solicitors, said that once the resolution is formally delivered the Paraguayan government will draft a reply.
On June 29, Argentina, Brazil and Uruguay decided to suspend Paraguay from the group until next year's general election because with the removal of Lugo the country had suffered a "democratic rupture". The three countries during the recent summit Mendoza also decided to admit Venezuela as a full member.
The decision is controversial since Mercosur works on a consensus basis. The other regional integration group, Unasur but which includes all of South America's countries also decided to suspend Paraguay until April 2013 when elections are scheduled.
Unasur also decided to name a high level group to follow the Paraguayan situation which will be formally implemented as of Monday in the Peruvian capital Lima, since Peru currently holds the group's rotating chair.
The first meeting is scheduled to take place at the Ministry of Foreign Affairs in Lima and will be headed by Peruvian former PM Salomon Lerner. The other members of the high level group are: Ambassador Glenn Alvares from Suriname; Guillermo Patriota from Brazil; Lorena Escudero from Ecuador; Rodolfo Mattarollo from Argentina and Arturo Fermando from Chile.