"We need some strong vaccines to accept Venezuela in Mercosur"
Monday, July 23rd 2012 - 20:31 UTC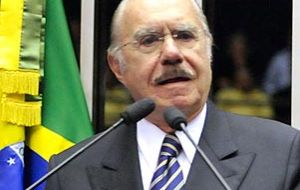 The head of the Brazilian Senate and former president Jose Sarney said he had his reservations about the incorporation of Venezuela to Mercosur as full member since the government of Hugo Chavez does not respect democratic rules.
Sarney said he firmly supports "one of the fundamental clauses of Mercosur which is to strengthen democratic institutions in South America", but also added "we need to have some strong vaccines to be able to accept Venezuela".
"I have personally verified that in Venezuela lately we don't have a full democracy, there are practices which we can't say they are absolutely democratic", said the powerful politician belonging to Brazil's second strongest political party and a crucial ally of President Dilma Rousseff's Workers party.
Venezuela's incorporation was announced at the June Mercosur summit in Mendoza, which also suspended Paraguay, and the Brazilian government said that the formal incorporation ceremony as fifth Mercosur full member will take place at the capital Brasilia and not in Rio do Janeiro as originally planned.
However Foreign minister Antonio Patriota strongly defended the decision and said Brazil was very satisfied with the incorporation of Venezuela and again questioned the removal of Fernando Lugo in Paraguay.
"Venezuela has the fourth GDP of Latin America and the fourth population of South America, it's a dynamic economy and with its incorporation to Mercosur will extend from the Caribbean to Patagonia …besides the fact that its hydrocarbons reserves are among the largest in the world. The incorporation is a great advance", said Patriota.
He added that the inclusion of Venezuela will mean changes in the economic geography of the hemisphere with "a strong pole of attraction in South America at the time it weakens Caracas links with the United States".
The incorporation of Venezuela which was first requested by President Hugo Chavez in 2006 will boost "an interesting evolution that was too inclined towards the oil consuming markets of the north", pointed out Patriota.
Brasil is becoming one of the main partners of Venezuela in trade, infrastructure investment, as well as agriculture and this entire cooperation "will undoubtedly further advance with Caracas as the fifth full member of Mercosur".