Humala dumps hardliners, names new 'soft hand' cabinet to calm anti-mining protests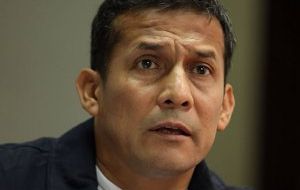 President Ollanta Humala named human rights lawyer Juan Jimenez prime minister on Monday as the Peruvian leader shuffled his cabinet to calm a wave of violent anti-mining protests and a drop in his popularity.
Jimenez, 47, had been justice minister and replaced Oscar Valdes, a former army officer who led a crackdown on protesters opposed to Newmont Mining's 5 billion dollars Conga project in the northern region of Cajamarca that killed five people this month.
Humala reappointed Finance Minister Luis Miguel Castilla, a favourite of investors, and Mines and Energy Minister Jorge Merino, who oversees a 50 billion dollars pipeline of investments in one of the world's top exporters of minerals.
A former soldier and hard-line leftist, Humala now defends foreign investment and has sought to push ahead with big mining projects in one of Latin America's fastest-growing economies.
But he has faced stiff resistance from poor rural communities left behind by a decade-long boom. The cabinet overhaul marked the second time in his year-old term that disputes over natural resources prompted the ouster of his prime minister. The previous reshuffle was last December.
Humala brought in six new ministers to his 19-member cabinet on Monday and named Eda Rivas Justice Minister.
Wilfredo Pedraza, who used to run Peru's prisons, was named interior minister. Petro Cateriano, a lawyer, was put in charge of Defence. Both will try to help Humala gain control over a remote bundle of valleys known as the VRAE that is rife with cocaine traffickers and remnant bands of Shining Path rebels in the globe's No. 1 grower of coca.
Promoting Jimenez, who served as vice justice minister in the government that led Peru's transition to democracy in 2000, may help Humala overcome criticism that his government developed a militant, authoritarian streak under Valdes.
Leading members of Congress had called on Valdes to step down and say the government should emphasize mediation instead of force to solve environmental disputes.
However, a Jimenez-led Cabinet may not pacify regional government leaders who have led anti-mining protests and say Humala has turned his back on the rural poor who voted for him by abandoning his leftist ideals and drifting to the right.
Jimenez backed Humala's decision to suspend civil liberties in Cajamarca, where human rights groups have sharply criticized the government's use of force.
Peruvian leaders often shuffle their cabinets on July 28, Peruvian Independence Day, which also will mark the anniversary of Humala's first year in office. Humala's approval rating fell to a fresh low of 40% this month, according to an Ipsos poll.
Humala replaced half of his Cabinet in December, when he promoted Valdes from interior minister to prime minister as he sought to quell protests with a firmer, more law-and-order tone that irked the left.