The significance of Venezuela for Brazil underlined by the country's diplomats
Monday, July 30th 2012 - 04:42 UTC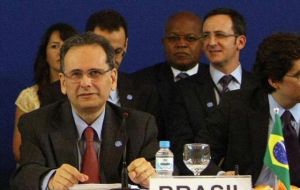 Brazilian diplomats revealed during a television Globo News debate details of the controversial procedure applied by Mercosur countries to suspend Paraguay and agree the incorporation of Venezuela as full member.
The panel was made up of former ambassador in Washington Rubens Barbosa (1999/2004); Luiz Felipe Lampreia, Foreign Relations minister, (1995/2001) and Antonio Jose Ferreira Simoes, currently Under Secretary for South American affairs at the Itamaraty palace.
Ferreira Simoes started by arguing that nothing of what is established in the Mercosur Ushuaia II protocol (referred to democratic governance) was implemented, "What was applied was something much simpler, that is the suspension of Paraguay".
He also discarded that the suspension was the result of pressure from Argentine president Cristina Fernandez, "That is not true. Two decisions were taken in Mendoza: the first to suspend Paraguay was adopted before the summit meeting in a 'virtual' decision. All was done according to norms and ratified by the governments. Second, why so fast?, simply because in these cases there is no space for anti-democratic adventures in the region".
Former minister Lampreia said he was shocked at the "institutional confusion" of the different bodies which are left to the mercy of "personal (presidential) wills". What has happened is "that Paraguay is a modest, small country with great limitations, a neighbouring country which is of much interest for Brazil, and this involves several problems".
He added that making abrupt political decisions regarding Paraguay "is something which is not convenient. Paraguay is in a difficult situation, very delicate. It must find a way out in a state of agitation, which is not good".
Ferreira Simoes added that "Brazil acted in the framework of legality insisting Mercosur has the right to implement the Ushuaia II protocol and from a political point of view it is beneficial for Brazil to apply such norms for the security of Brazil".
He added that is was necessary to take such measures insinuating that Brazil must apply its authority in the region.
However former ambassador in Rubens Barbosa insisted on the juridical aspect of the Ushuaia protocol saying it was not applied as indicated in the articles. According to the diplomat, Article 4 of the protocol did not take into account that before any decision on suspending a member country, that country must be consulted. "It is an illegal situation because the political decision did not respect the criteria of the documents", said Barbosa.
But Simoes refuted saying that there was a process of consultation with representatives from the hegemonic Colorado Party, Patria Querida, the president of Congress, the Vice-president of the Supreme Court and "even with (the removed ex Paraguayan president) Fernando Lugo was consulted".
Regarding the access of Venezuela to be made official next Tuesday 31 July, Barbosa said that the issue can be analyzed from three different points of view: "from a strategic point of view, it is very positive (for Brazil). For the expansion of Mercosur to the Caribbean, to Patagonia and from Venezuela to grow to other countries; there are two other aspects, commercial and political, both most favourable for Brazil; Brazilian corporations have a long list of contracts in Venezuela".
But Barbosa also asked if Venezuela will finally fully comply with the protocol: the common external tariff, liberating trade, bringing tariffs down sufficiently to help the free movement of goods in the common market.
Finally Simoes went straight to the point and referred "to facts and not myths". He revealed that Venezuela is now Brazil's third trade partner behind China and Argentina.