US government 'sovereign right' blessing to Venezuela's inclusion in Mercosur
Wednesday, August 1st 2012 - 08:03 UTC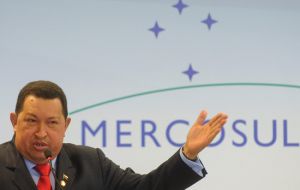 The US government said that Venezuela as any other country has the "sovereign right" to join regional organizations such as Mercosur. The statement from the US State Department comes on the day that Mercosur officially incorporated Venezuela as full member of the block.
"Each state has the sovereign right to join regional organizations based on domestic priorities and foreign policy and the regional organizations have the right to determine" whom they accept as members, State Department Neda Brown was quoted by the Spanish news agency EFE.
Without specifically mentioned Venezuela and its inclusion in Mercosur, Brown reiterated the official position of the US government regarding the composition of diverse regional groupings.
The official incorporation of Venezuela to Mercosur during an extraordinary meeting of the trade block implies a significant political victory for President Hugo Chavez who has been the target of strong criticisms from a large group of US Congress members for his close links with Iran and Cuba.
But politics aside, Venezuela is one of the main providers of oil to the US with an average 987.000 bpd of crude, which is approximately half of the oil rich country's exports and 8.3% of US imports, according to stats from the State Department.
Last year bilateral trade reached 55.6 billion dollars with Venezuelan oil exports representing 43.3 billion dollars (42% of the country's total oil exports) while US sales to Venezuela reached 12.4 billion dollars or 24.2% of total imports.
Precisely on Tuesday during the ceremony in which Venezuela was officially included in Mercosur, President Chavez said his objective was through a democratic mature process "to transform the economic model of the country, leaving aside the exclusive dependence on oil to become a farming and industrial country".
"Our north is the south, where we should have always been. Where we have been allowed to be ourselves", underlined Chavez. He added that Venezuela joins Mercosur "full of passion, strength, will and desire to fully integrate the group".