Venezuela's Mercosur membership "null and void" says Paraguayan government
Wednesday, August 1st 2012 - 19:37 UTC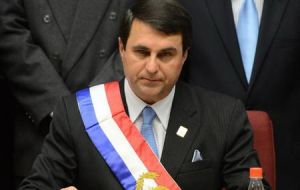 The Paraguayan government declared "illegal" and "null and void" the inclusion of Venezuela as a full member of Mercosur which was agreed on Tuesday during the extraordinary meeting held in Brasilia with the absence of Paraguay.
A release from the Foreign ministry says that "Paraguay sustains and will sustain in all instances" that the incorporation to Mercosur of Venezuela "is an abuse unacceptable to all the specific institutional framework and norms currently effective in the regional block".
The Paraguayan Executive "reaffirms and reiterates it will continue in the battle for the defence of its rights in all instances and pertinent forums", adds the release.
Paraguay was formally suspended from Mercosur 29 June for the "democratic rupture", which according to Argentina, Brazil and Uruguay took place with the removal of Fernando Lugo as president, a week earlier, by the implementation of a political impeachment by the Paraguayan Senate.
On that same day and meeting the other three full members of the block agreed in the Mendoza summit to incorporate Venezuela which was formalized on Tuesday with the attendance of President Hugo Chavez.
The release added that a presidential statement "does not constitute a valid juridical act in the institutional framework of Mercosur and therefore it lacks legal support and efficacy"
Venezuela's inclusion without the presence and conformity of Paraguay is "a gross violation of the Protocol of Adhesion of Venezuela from 4 July 2006" which demands the ratification of all the other full members.
Therefore, "until the Republic of Paraguay, as founding member of Mercosur does not deposit the pertinent ratification of Venezuela's incorporation done without complying with this requisite, the whole action is null and void".
Paraguay deplores that the process of regional integration, supported by current interests and conveniences "has distanced from juridical rule to build this common project on the basis of political rule".
The Paraguayan Senate was the only legislative of the Mercosur full members not to ratify the incorporation of Venezuela.