Brazilians trust in future of their country, their jobs and President Rousseff
Friday, August 3rd 2012 - 22:34 UTC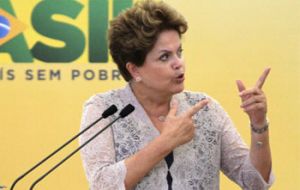 President Dilma Rousseff continues to enjoy high popularity as Brazilian consumers sound very optimistic about the future of their country and trust they can hold on to their jobs despite the recent economic slowdown.
About 57% of those polled said they thought Rousseff's government was either "great" or "good," according to the survey by the National Transport Confederation, or CNT. That was up from 49% in the CNT last poll, released in August 2011.
Only 7% of those polled last month said they thought the government was "bad" or "terrible."
Rousseff's personal approval rating was even higher, at 76% compared to 70%. Her high marks are similar to those reported in other recent polls.
The poll was taken between July 18 and 22, and had a margin of error of 2.2 percentage points
Some data within the CNT poll, which surveyed 2,000 Brazilians nationwide, yielded clues as to why Rousseff is doing so well: despite a sharp economic slump over the past year that has battered manufacturers, most Brazilians still feel safe in their jobs and believe their fortunes will only keep improving.
"The economic and industrial slowdown (in Brazil) and the fall in foreign economic activity have resulted in few consequences for the Brazilian economy so far" CNT President Clesio Andrade said in a statement.
"This situation, combined with low unemployment rates and the high capacity for consumer spending, reinforce the sense of optimism detected in the poll," Andrade said. Those factors, he added, aren't expected to change in the coming months and are likely to continue strengthening Rousseff's popularity.
The poll also showed Rousseff with a huge lead over potential challengers in the 2014 presidential election, with Senator Aecio Neves, a likely candidate for the biggest opposition party, 59% to 15%.
Brazil's economy is expected to grow less than 2% this year, far from the 7.5% growth seen in 2010. But unemployment remains at record lows as the Brazilian government has passed several tax incentives and other measures to ensure that Brazilian consumers keep spending.
About 38% of respondents said they had delayed or cancelled a planned purchase because of the global economic crisis. However, 53% said they believed their purchasing power would improve by the end of the year, with only 8% saying they thought their purchasing power would decline.
Asked what they would most like to buy, the overwhelming number-one response was "my own house" at 58%. Brazil has enjoyed a low-income housing boom over the past decade, but most economists believe there is much demand still to be met.