State of emergency in south Peru to protect mining projects from guerrillas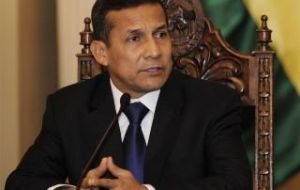 Peru's government has extended a state of emergency for 60 days in several districts of south-central regions because of the presence of the guerrilla group Shining Path remnants.
The state of emergency, which suspends a number of civil liberties, was extended to districts in Ayacucho, northern Cusco, Huancavelica and Junin, reported daily Peru 21.
The state of emergency was first declared in these areas in May, following the kidnapping of almost 40 natural gas contract workers by a splinter group of the Shining Path.
The workers were released a few days later following negotiations which President Ollanta Humala declared a success. However attempts to capture the rebels led to the deaths of about 10 police and military officers, resulting in a public outcry and the resignation of the Interior and Defense ministers.
The area where the kidnapping occurred is just outside the coca-growing Apurimac and Ene river valleys, which includes a number of districts in Ayacucho, Cusco and Junin. The Shining Path remnants have been able to survive in the region thanks to financing from the multi-billion dollar drug trade
It was the first kidnapping since 2003 by a remaining faction of Maoist group Shining Path, which during the 80s and 90s started a bloody war against the state that claimed 70,000 lives and billions of dollars in losses.
The Shining Path are now too weak to threaten the government, but nevertheless work in cocaine-trafficking and control a large swath of the Peruvian jungle.
The presence of the guerrilla group has delayed the expansion of pipelines and power lines needed for the mining companies working in the area and which are crucial to the development of the country's economy.
On Wednesday, Peru announced it will hold an international auction by the end of the year for the construction of a new gas pipeline in the same jungle region, as part of its plan to secure the country's energy.
Brazilian construction firm Odebrecht is also planning a 6 billion dollars project to build a new pipeline from an area near the rich Camisea gas fields through southern Peru. The country has just one 800-kilometers pipeline that brings gas from the Camisea fields in Cusco to the coast.