In carefully worded statement British bank rejects money laundering claims by US regulator
Wednesday, August 8th 2012 - 19:41 UTC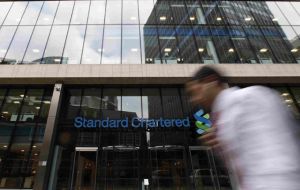 As British bank denies accusations it hid 250 billion dollars in transactions with Iranian banks, its share price falls sharply. Standard Chartered has rejected a US regulator's claim that it hid 250 billion dollars in transactions with Iranian banks in violation of US sanctions.
The denial came a day after New York's Department of Financial Services (DFS) threatened to revoke the bank's licence and impose fines, as the regulator branded the London-based lender as a "rogue bank".
"The group strongly rejects the position or the portrayal of facts as set out in the order issued by the DFS," group company secretary Annemarie Durbin said in a statement. He added "the group does not believe the order issued by the DFS presents a full and accurate picture of the facts."
Shares of Standard Chartered fell by as much as a quarter in trading in London and 7.5% on the Hong Kong stock exchange, as there are fears the bank could lose its operating licence in the US.
The US regulator accused the bank of systematically disguising foreign exchange deals with Iran in a breach of controls that potentially opened up the US banking system to terrorists and criminals.
The regulator said that Standard Chartered had hidden 60,000 such secret transactions from 2001 to 2010. It has ordered the bank to explain the alleged violations by August 15, in the latest US move against foreign lenders accused of failing to prevent money laundering and other illicit transactions.
The regulator also said that it would hold a formal hearing over the "assessment of monetary penalties". The bank has also been threatened with having its US banking licence revoked.
The bank, which mainly focuses on emerging markets in Asia, the Middle East and Africa, said it was surprised at the allegations as it had informed relevant US agencies in 2010 that it had voluntarily launched an internal compliance review.
Senior management were said to have codified their illegal procedures in formal operating manuals, including one labelled "Quality Operating Procedure Iranian Bank Processing".
The bank was also accused of falsifying Swift wire payment directions by stripping the message of unwanted data that showed the clients were Iranian, replacing it with false entries.
Standard Chartered said the review "did not identify a single payment on behalf of any party that was designated at the time by the US government as a terrorist entity or organisation".
Standard Chartered says it stopped all new business with Iranian customers more than five years ago. The bank last week posted record first-half net profit of 2.81bn, up 12% from the previous corresponding period.
The bank is based in London and has 1.700 offices in 70 locations.