Argentine private agencies July inflation 1.76% and 24.13% in twelve months
Friday, August 10th 2012 - 07:21 UTC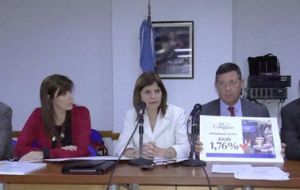 Argentine opposition lawmakers presented on Thursday July's inflation index based in the analysis of nine private agencies, which showed a 1.76% increase against the previous month and doubles the official index from the government of President Cristina Fernandez.
In the first six months of the year, the so called congressional index has the following readings: Jan, 1.9%; Feb, 1.65%; March, 2.31%; April, 2.16%; May, 1.71%; June, 1.68% and July, 1.76%.
These numbers are more than double the official CPI index calculated by INDEC: Jan, 0.9%; Feb, 0.7%; March, 0.9%; April, 0.8%; May, 0.8% and June, 0.7%.
According to the indexes of different private agencies, the inflation has accumulated 24.13% between July 2011 and July 2012.
Legislators Eduardo Amadeo (Peronist Front), Juan Pedri Tunessi (Radical Party), Paula Bertol and Pablo Tonelli (PRO), and Patricia Bullrich (Unión por Todos) presented the "Congress Index" during a press conference in the Argentine congress building.
Bullrich underlined the importance of the release of the inflation data elaborated by private consultants because it has become "an institution, the Congress index on inflation is a national reference".
Lawmaker Tunessi highlighted that the inflation index registered in July "the highest volume in the last 14 months" and Bullrich assured that "we are stranded and the raise of the salary is a big lie, such as the Indec".
"Things are not improving, rather the opposite", said Tunessi pointing out that inflation keeps increasing "in a context of strong fall in the economic activity".
Lawmaker Tonelli holding up a 100 Pesos bill said that compared to 2007, that same bill "nowadays has a purchasing power of 33.61 Pesos", according to studies from the private economic consultants.
The members of the congressional freedom of expression commission make theirs an average of the private agencies because these face heavy fines if they don't reveal their methodology to estimate the monthly hike in prices.
Since the measure was enforced several agencies were fined so they ceased to make them public, but an average of several of them is announced every month by opposition members from the congressional freedom of expression commission.