Ice patrol HMS Protector crew to visit the affiliated city of Cambridge
Friday, August 10th 2012 - 22:37 UTC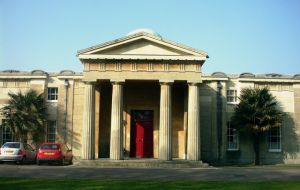 The university city of Cambridge might be more used to punts, but it is about to welcome the crew of a Royal Navy ship. HMS Protector, the Navy's 5.000-ton Antarctic patrol vessel is to visit the region on Monday, marking her first visit to her affiliated city of Cambridge since the formal link was established a year ago.
The ship will dock at nearby Ipswich on Friday August 10 at approximately 6pm, remaining in port until next Wednesday morning.
During her time at the Suffolk town, HMS Protector's crew will spend a full day in its twin city of Cambridge visiting both East Anglia's Children's Hospices (EACH) Milton facility and the British Antarctic Survey headquarters, with which she already has a close working relationship.
On Saturday evening, the Commanding Officer, Captain Peter Sparkes, will hold a small reception and capability demonstration for invited guests, including civic dignitaries and affiliate representatives from Cambridge.
This is followed on Monday by a visit to their affiliated charity, EACH at Milton, Cambridge. It is a chance for crew members to meet the staff and youngsters and to present money collected by everyone on the ship during the recent deployment and will be shared among EACH projects.
Also on Monday, the crew will continue their visits in the city at the headquarters of the British Antarctic Survey.
"It is both a real pleasure and a genuine privilege to be able to bring HMS Protector to Ipswich and spend time in our newly affiliated city of Cambridge," said Captain Sparkes. "The visit presents an excellent opportunity for us to build on the strong ties that we have already established.
"We are very much looking forward to learning more about EACH and also to visiting the British Antarctic Survey" he added.