Paraguay sounding the possibility of joining the Pacific Group
Saturday, August 11th 2012 - 10:04 UTC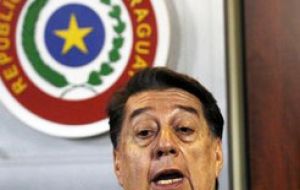 Paraguay is sounding the recently created Pacific Block made up of Colombia, Peru, Chile and Mexico with the possibility of considering applying to join it, revealed the country's Foreign affairs minister Jose Fernandez Estigarribia.
"We're making consultation about the Pacific Block, but nor for revenge but because that group is economic and not political. We are serenely reflecting on the matter. Our ambassador in Chile, Terumi Matsuo has received instructions to sound that possibility" said the Paraguayan minister.
Regarding Mercosur the minister ratified that Paraguay has no intention of abandoning the economic block and will continue negotiations to resolve the temporary suspension imposed on the government of President Federico Franco by Mercosur following the removal of Fernando Lugo as president as a consequence of the political impeachment.
"I think it is difficult, but that will not impede the ministry from looking for ways of understanding (with Mercosur country members). We are going to use all our resources to find a way out for diplomatic relations", added Fernandez Estigarribia.
He pointed out that going to the International Court of The Hague as was first considered, "takes too long and thus a diplomatic solution must be addressed immediately".
"If we go to The Hague it could take four or five years for a ruling and what we need is a quick reestablishment of full diplomatic relations".
In related news Uruguay denied that there is a ban on contacts with Paraguayan diplomats and underlined that Uruguay "retains diplomatic and consular relations" with Asunción.
The misunderstanding was born from the Uruguayan ministry communiqué saying that Mercosur-Unasur diplomats "must adjust relations abstaining from personal contacts or participating in events which could be interpreted as recognition of the current government of Paraguay".
However this was followed by a second release saying it was "absolutely false that the Uruguayan Foreign ministry had banned Uruguayan ambassadors from having contacts with Paraguayan diplomats".
On 29 June at the Mercosur summit all heads of state from Mercosur and Unasur "coincided in that a rupture of the democratic order had occurred in Paraguay, and it was agreed to suspend its participation in the different organic instances of both organizations".
In this context the Uruguayan ministry informed all diplomatic and consular legations overseas of the "Mercosur-Unasur suspension of Paraguay's participation", which contains decisions adopted unanimously. Diplomats were also instructed "to abstain from contacts and participation at official events that could be interpreted as a tacit legitimacy for the rupture of democratic order and which as such are recognized by all countries from the region".
"We have retained diplomatic and consular relations with Paraguay and the Uruguayan embassy in Asuncion remains open and fully operations", said the release adding that all cooperation links with Paraguay, at technical and professional level are effective.
Finally Uruguay hopes that the transition process to the coming elections in Paraguay is done with transparency and full respect for essential rights and freedoms, so that "Paraguay can fully rejoin, the soonest possible to the normal functioning of the region's integration process".