Buenos Aires tango festival in full swing
Wednesday, August 15th 2012 - 16:55 UTC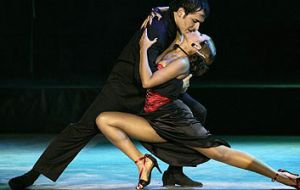 Buenos Aires is once again throbing to the rhythm of tango as this year's Buenos Aires Tango Festival and Tango Dance World Cup gets underway here attracting over 2.000 musicians and dancers from around the world.
The big annual appointment for lovers of the tango opened last night with the first of over 500 shows scheduled till August 28, when the Festival ends with the finals of the Tango Dance World Cup, the most prestigious international tango competition, in which approximately 500 contenders will take part.
The festival opened in the La Boca district – an area of Buenos Aires that is considered to be the cradle of tango - with the Tipica Sub 25 youth orchestra conducted by violinist Pablo Agri and Eduardo Baffa on bandoneon as well as dancers Juan Carlos and Johanna Copes among others.
Speaking at the opening ceremony Hernan Lombradi, Culture Secretary of the City of Buenos Aires government said, "Undoubtedly it is the most important tango event in the world, with the participation of more than 2.000 artists, from the youngest up to the most mature generations. It provides two weeks to enjoy the tango in its many different variations."
"This year we wanted to include the traditional tango and some of the newer arrivals to the genre, so as to help consolidate the generational leap that guarantees the future of tango," he added.
Among the special events planned for this year's festival, a special homage will be paid to bandoneon player Astor Piazzolla, considered to be the most influential tango musician and the leading proponent of the concertina-like instrument that produces the mournful sound that is quintessential to tango, who died in July 1992.
The renowned Colon Theatre will make its debut as part of the festival on August 20, with a concert by the TangoContempo group performing a concert dedicated to the instrumental repertoire of the XXIst century.
During the second week of the festival the World Cup of Tango Dance, with over 500 couples from around the world, will begin in two categories: Salon Tango and Stage Tango and the final will be held on August 27 & 28.