Argentina manages a 7.3bn dollars surplus in first half of the year
Saturday, August 18th 2012 - 06:18 UTC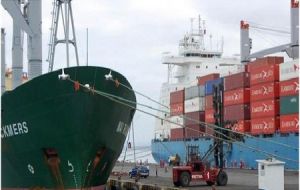 Argentina trade surplus in the first half of the year reached 7.336 billion dollars, up 26.8% over the same period a year ago, with exports reaching 39.647bn dollars and imports 32.311bn, according to the official stats office Indec.
The 32.3 billion dollars of imports represented a fall of 5.7% over a year ago. Brazil, Argentina's main trade partner saw Argentine purchases drop 15.7% from 10.1 billion to 8.5 billion in the first half.
China the second main trade associate also exported 7.4% less to Argentina but the US manager to increase sales 12.7% in the first half.
However Argentine exports also dropped but at a much slower pace: 1%, from 40 billion in the first half of 2011 to 39.647bn this year.
Exports to China totalled 2.478bn dollars, down 3.8%, while to Chile they soared 21.8% from 2.064bn to 2.515bn. Exports to Brazil also were down 9.1% in the first half.
Argentina, which remains absent from world voluntary money markets because of pending demands from the 2002 default, has imposed severe restrictions on foreign purchases to ensure a trade surplus.
Since October last year, the policy has been further reinforced by strict controls on the purchase of foreign currency for trade, travel, tourism, which can demand sworn statements and filling up long forms which are then checked by the tax office and the Central bank.
The situation became particularly serious this year after Argentina's energy import bill soared to over ten billion dollars. Last May the administration of President Cristina Fernandez nationalized the country's main oil and gas corporation YPF by seizing a majority stake from Spain's Repsol.