Argentina consumers' 12-month inflation expectations reach 39.8%
Wednesday, August 22nd 2012 - 05:12 UTC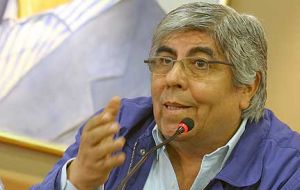 Argentine consumers' inflation expectations for the next twelve months reached a record of 39.8% climbing for the third month running, according to the latest release from the University of Torcuato Di Tella.
Expectations which are based on polls and statistical data also showed that inflation for the twelve months of 2012 is forecasted to be in the range of 30% for the sixth month running.
The monthly polls are done by the Finance Research Centre from the Business School of the Di Tella University and with background information from the Inflation expectations survey.
The inflation survey indicated that the average expectations for the next twelve months stand at 40.6% in the capital Buenos Aires and 42.5% in metropolitan Buenos Aires. However in the rest of the country inflation expectations were considerably modest 34.7% and much lower than in the two other districts.
In related news the leader of organized labour CGT, Hugo Moyano said that sometime this week his organization will be announcing its own inflation measurement which could range "between 25% and 28%", compared to official data which has never reached two digits, since the Argentine stats office had professionals removed and replaced by 'Kirchnerite' political cronies.
Moyano until a few months ago a close ally of Cristina Fernandez but now a declared enemy since the president organized a parallel unions' organization, for several years now has stated that real inflation is 'supermarket inflation', where workers have to spend their money.
For that purpose since 2008 he has recorded the evolution of prices for a basic food and services basket by women staff working in the offices of CGT and based on these percentages has been negotiating salary increases and working conditions with corporations.
Allegedly Moyano also asked other unions in Argentine provinces to keep record of local prices and deliver them to the CGT stats office in Buenos Aires. Based on these contributions is that the stats office leaked that the twelve months 2011/2012 inflation is in the range of 25% to 28%.
Moyano also anticipated that his office besides releasing the cost of living for workers supported by supermarket shopping "will also deliver percentages related to poverty, indigence, unemployment and precarious jobs".
Inflation in July according to Indec was 0.8% and 5.9% in the first six months of 2012. But the so-called 'Congress index' stood at 1.76% and 24.13% in the last twelve months. This index is an average of private consultants which are exposed to heavy fines if they make their stats public