Lawmaker rejects idea of 'Kirchnerite era' end if CFK is not re-elected in 2015
Wednesday, August 22nd 2012 - 05:07 UTC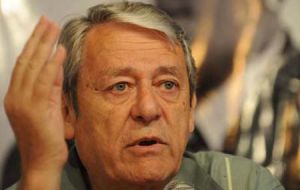 Argentine lawmaker and close counsellor of President Cristina Fernandez Carlos Kunkel rejected on Tuesday the idea that the 'Kichnerite era' could end if President Cristina Fernández is not re-elected in 2015 presidential elections as has been suggested by some of her followers and the opposition.
Cristina Fernandez is currently on her second term as president and a constitutional reform would be necessary in order to grant her the right to seek a third consecutive four year term in 2015.
Several governors, ministers, lawmakers and militant groups have openly launched the initiative of reforming the 1994 constitution to allow a re-re-election mandate and contrary to last October when the landslide victory (54% of ballots cast and 30 points ahead of her runner up, almost equalling the champion of Argentine elections Juan Doming Peron), Cristina Fernandez this time has not ordered her followers to kill the idea in a 'passive-positive' attitude.
On Monday Transport Secretary Alejandro Ramos said "the profile of the president is unequalled. Nobody can supplant her" and thus joining a chorus of provincial governors, lawmakers and social organizations that are calling for a re-re-election.
The opposition jumped on to the wagon and said that the problem is that the ruling coalition has no candidate or leader to follow on with the president's plans.
But Kunkel in an interview with a Buenos Aires radio expressed that 'Kirchnerism' would keep moving forward despite the end of Cristina Fernández presidency.
"When Evita (Peron) died no one seemed to step up to the plate. Nobody ever did, but the Peronist movement continued to exist. When (three times President Juan Domingo) Perón passed away it looked like Peronism was going to die with him. It survived instead", Kunkel explained.
"After Néstor Kirchner died we all felt the impact, but the Peronist movement has shown a remarkable capacity to answer to the people's needs", the congressman remarked as he refused the idea of the end of the 'Kichnerite' model.
When asked about who could rise as a possible candidate for the country's top post, Kunkel refused to give names: "The point is not who the candidate is, but who can carry out the government's administration".
Kunkel whose friendship with the Kirchner couple goes back to when they attended the same university in La Plata was the first to mention the possibility of a 'K penguin' re-election in 2007 but "this does not necessarily mean President Nestor Kirchner" in clear reference to then First Lady and Senator Cristina Fernandez.