Falklands donated three aircraft to WW1 effort, and the five Spitfires in WW2
Tuesday, August 28th 2012 - 06:09 UTC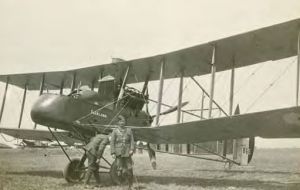 A discovery by the Museum and National Trust has revealed that not only did the Falkland Islands donate Spitfires to the British war effort in World War II but also three aircraft to the Royal Flying Corps in 1914.
Curator Leona Roberts told Penguin News: "Those aircraft were one FE2d and two FE Bristol Fighters.
"The photograph is of the FE2d aircraft named Falkland. The Royal Aircraft Factory FE2 was a two-seat Pusher aircraft operated as a day and night bomber and as a fighter by the Royal Flying Corps during the First World War and was instrumental in ending the 'Fokker scourge' that had seen the German Air Service establish a measure of air superiority on the Western Front from the late summer of 1915 to the following spring."
The FE2 was a two-seater with the observer sitting in the nose of the nacelle and the pilot sitting above and behind.
The observer was armed with one .303 Lewis Machine Gun firing forward. Later, another Lewis was added, mounted to fire backwards.
This arrangement was described by Frederick Libby, the first American ace of World War I as follows:
"When you stood up to shoot, all of you from the knees up was exposed to the elements. There was no belt to hold you. Only your grip on the gun and the sides of the nacelle stood between you and eternity.
"Toward the front of the nacelle was a hollow steel rod with a swivel mount to which the gun was anchored.
"This gun covered a huge field of fire forward. Between the observer and the pilot a second gun was mounted, for firing over the FE2d's upper wing to protect the aircraft from rear attack ... Adjusting and shooting this gun required that you stand right up out of the nacelle with your feet on the nacelle coaming.
"You had nothing to worry about except being blown out of the aircraft by the blast of air or tossed out bodily if the pilot made a wrong move. There were no parachutes and no belts."
The Falklands' Museum intends to add a display featuring this donation to the Royal Flying Corps when the new Dockyard site is opened. If anybody has any further information of this donation the Museum and National Trust would be pleased to hear of it. (PN).