Peruvian prosecution insists former guerrilla leaders must pay compensations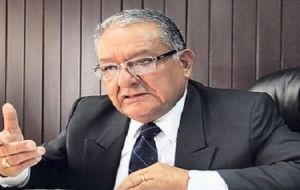 The Peruvian anti-terrorist Attorney General Office said that civil compensation to the tune of 1.4 billion dollars with be collected from members of the guerrilla groups Shinning Path and the leaders of Tupac Amaru Revolutionary Movement, MRTA.
Attorney Julio Galindo said that his office had already identified several properties belonging to the heads of MRTA and the historic leaders from Shinning Path, which will be embargoed in coming months.
"One way or another we are going to collect that money; here there are no differences the two groups are the same and they caused much damage and suffering to the country" said Galindo.
The Attorney General statements were in reply to the defence of Abimael Guzman, the founder of Shinning Path, solicitor Manuel Fajardo regarding the alleged prescription of compensations imposed by the Peruvian state on his client.
Fajardo said that his client Guzmám is not prepared to pay compensations amounting to 1.4 million dollars because they are "dead, extinguished debts".
Galindo speaking to the regional news agency Andina said that compensations imposed on crimes of terrorism total the equivalent of 1.41 billion dollars in the case of Shinning Path and 19 million dollars for MRTA.
Shinning Path has been signalled by the Peruvian Truth and Reconciliation Committee as the main responsible for the killing of over 69.000 people in the two decades period from 1980 to 2000, following the wave of violence, destruction and death launched against the Peruvian state.
The same report indicates that the Peruvian Armed Forces and MRTA are also responsible for killings but at a far lower percentage during that period.