Cristina Fernandez re-election initiative spurs rejection from opposition
Wednesday, August 29th 2012 - 03:26 UTC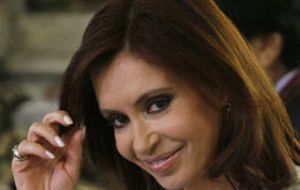 Argentine president Cristina Fernandez is totally in agreement with a constitutional review opening the way for a third consecutive re-election, claimed the main opposition party president who anticipated political forces will rally to try and stop the initiative.
"We know that the president is totally in agreement with a constitutional reform; in fact with her husband the late Nestor Kirchner they repeatedly implemented it when they ruled in the province of Santa Cruz, so this is not something out of the blue", said Mario Barletta.
"We have shared our concern with our fellow members from other political forces and we have received a very important support to conform an anti reform front, although this does not mean we are working on an electoral alliance", added the former mayor from the City of Santa Fe and consensus president from the Radical party.
Barletta added that the congressional opposition must be ready to unite its objections to a possible constitutional review which "can happen any moment, no matter our political calendars and plans". He said that the main threat could occur next year at the mid term elections when half the Lower House and a third of the Senate is renewed.
Under the Argentine constitution presidents are allowed only one re-election totalling eight consecutive years. Followers of Cristina Fernandez including lawmakers and governors are sponsoring the proposal of a third consecutive period in 2015. CFK was first elected in 2007 and re-elected by an overwhelming majority in October 2011. In 2007 she followed her husband former president Nestor Kirchner who ruled from 2003 to 2007.
Barletta said that Argentines want to grow up their families "in a democratic, open and republican country by opposition to a country where the worst political practices are no longer the exception but the every day stuff".
"It's not small challenge" added Barletta who claimed that staying too long in office "leads to abuse and political vices, authoritarianism and arrogance".
And what does the Argentine president think of the debate? During a recent event at the grounds of Tecnopolis, an innovation and development pole, Cristina Fernandez was asked: "President re-election, yes or no?"
She was silent for a few seconds, smiled, turned around and walked away.