Chile joins the Colombia/FARC peace talks scheduled to take off in Norway
Thursday, August 30th 2012 - 05:09 UTC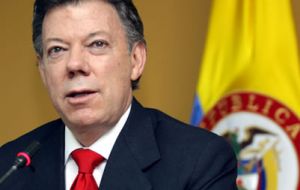 Cuba will be the permanent seat for the peace dialogue between the government of Colombia and the FARC guerrilla group, talks which will have the support from Norway, Venezuela and Chile according to a broadcasting station from Bogotá.
The dialogue document with four pages and six main points, states that the delegates from President Juan Manuel Santos and the Colombian Revolutionary Armed Forces, FARC will formally launch the talks in Oslo and then move to Havana, the permanent seat.
The details are included in the so called "General Agreement for ending the conflict and the construction of a stable and lasting peace", according to the Colombian media, agreement reached last Monday in Cuba.
The signatory parts of the agreement are committed "to ending the conflict as an essential condition for the construction of a stable and lasting peace" and "to begin direct uninterrupted talks".
The agenda of the dialogue will include issues such as "integral agrarian development policy", "political participation", "end of the conflict", "solution to the problem of illicit drugs", "victims" and "implementation, verification and ratification" of the agreement.
President Santos confirmed last Monday the news following on the international channel Telesur and other media announcement that the parts had reached an understanding for a peace dialogue to end decades of internal strife.
In an address to the nation President Santos said that "exploratory conversations have taken place with FARC to find an end to the conflict", without giving further details.
According to the document the talks will take off in Norway a month after the formal public announcement of the understanding reached in Cuba.
The understanding also establishes that the conversations will have the support from Cuba and Norway, in both cases as guarantors and of Venezuela and Chile as "accompanists".
"Following on the needs of the process, other governments can be invited with the approval from both sides", says the document which reveals that talks have been ongoing since "preparatory" contacts last February 23 in Havana.
The preparatory meeting "had the participation of the governments from Cuba and Norway as guarantors, and with the support of Venezuela as a logistics facilitator and accompanist".
FARC have been fighting the Colombian government and armed forces since 1964, and currently have an estimated 8.500 combatants.