FIFA begins round of latest inspection of Brazil 2014 Cup preparations
Thursday, August 30th 2012 - 03:18 UTC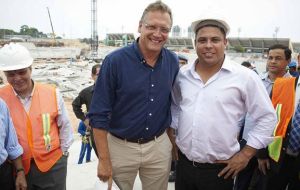 FIFA secretary general Jerome Valke this week began his latest inspection of Brazil 2014 World Cup preparations amid ongoing concerns over delays in stadiums and infrastructure projects.
"Just landed in Brazil and now with Ronaldo on our way to Manaus. Cannot wait to discover the heart of the Amazon," he tweeted on Tuesday morning. Valcke is accompanied by Ronaldo, a member of the Brazil 2014 organising committee board, and Luis Fernandes, executive secretary of the ministry of sport.
Valcke was scheduled to meet with the governor of the state, Omar Aziz, and the Manaus mayor, Amazonino Mendes before a joint visit to the stadium. The FIFA delegation heads to Cuiaba.
The FIFA number 2 said "The visits are very important not only to see the stadiums and the general infrastructure progress but also to be able to discuss with the host cities and states representatives our joint mission, as they are providing the essential playing field for the teams and their fans".
In Cuiaba, located in the centre of the country Valcke and Brazil 2014 officials will visit the World Cup stadium and discuss other areas of the city's preparations for tournament. Both Manaus and Cuiaba are scheduled to stage four group-stage matches at the 2014 World Cup.
Valcke's visit to Brazil wraps up with a board meeting of the 2014 organising committee in Rio de Janeiro on Thursday.
Despite repeated assurances from World Cup organisers and the Brazilian government, FIFA remains concerned that elements of stadium construction and transport infrastructure works will not be finished on time for the Confederations Cup next year and the World Cup to follow.
The clock is ticking down to the staging of the Confederations Cup in six Brazilian cities next June 2013. But a number of new stadiums are far from finished and the 500m-plus revamp of Rio's Maracana is slow-going.
But Brazil's deputy sports minister Fernandes is not worried. "These are complex operations, but we're more than confident — absolutely sure — they'll be built in time" Fernandes was quoted by the Miami Herald.
The Frenchman has promised to visit all 12 host cities for Brazil 2014 by the end of this year. After tours of Brasilia, Fortaleza, Natal, Recife and Salvador in the first six months of 2012, he still has Porto Alegre, Sao Paulo, Belo Horizonte and Curitiba to inspect.