Poll votes for "Brazuca" as the official name for the 2014 World Cup ball
Monday, September 3rd 2012 - 06:29 UTC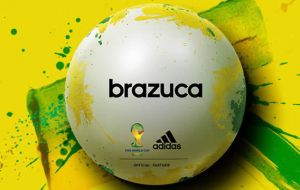 FIFA says Brazilians have decided to name the 2014 World Cup ball ''Brazuca,'' an informal word often used to describe national pride in the country and how Brazilians are referred to in several neighboring countries.
FIFA says more than one million people voted to select the ball's name, with 70% picking the term. FIFA says the name ''symbolizes emotion, pride and goodwill to all,'' mirroring Brazil's ''approach to football.''
''Brazuca'' is also often used as the nickname given to Brazilians living outside the country, including the hundreds of footballers playing abroad.
Adidas, the official World Cup ball supplier since 1970, says two other names had made the final list - Bossa Nova and Carnavalesca.
FIFA said Sunday it was the first time fans were directly involved in the naming of the World Cup ball, which is still being developed and tested with several clubs and associations worldwide.
The Brazuca likely will be the first World Cup ball equipped with goal-line technology, which will be introduced by FIFA at the seven-team Club World Cup in Japan in December. The goal of FIFA is to have the mechanism fully tested ahead of next year's Confederations Cup, which will also take place in Brazil.