Russia's Gazprom ready to help YPF develop gas and non-conventional resources
Tuesday, September 4th 2012 - 23:42 UTC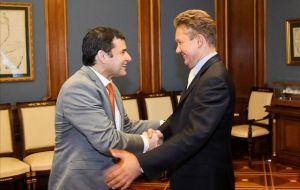 Argentine nationalized oil company YPF moved forward in the signing of an agreement with Russian state oil company Gazprom to develop conventional and non-conventional gas in Argentina and the eventual supply of liquefied gas.
The announcement was made following a meeting in Moscow between YPF CEO Miguel Galuccio and his Russian counterpart Alexey Miller.
The agreement also details a work plan that will include a visit of YPF technicians to Russia and Gazprom technicians to Argentina. The agreement is added to the one announced by YPF last week regarding talks with US company Chevron for the exploring and development of non-conventional oil.
YPF also signed an agreement with Corporación América (a group of companies owned by Eduardo Eurnekian) for a 500 million dollars investment in shale and another one with Bridas, partially owned by the Bulgheroni family and the China National Offshore oil Corporation.
"It was a positive meeting and opened a new door to move forward with the ambitious goals we set on our investment plan. Gazprom is the world's most important gas company and we have found topics in common to quickly explore a joint collaboration," Gallucio said after the meeting, which lasted over an hour.
Russian state-run Gazprom own 18% of the world's natural gas reserves and is the sole producer of liquefied gas in Russia.
The accord reached by YPF and Gazprom included a joint collaboration plan to explore non conventional gas and shale gas in Argentina, and the possibility of providing the country with liquefied gas.
YPF sources revealed that the meeting was agreed upon President Cristina Fernández and Russian counterpart Vladimir Putin during the last G20 summit in Los Cabos, Mexico.