Brazilian industrial production up 0.3% in July, but still unconvincing
Wednesday, September 5th 2012 - 00:52 UTC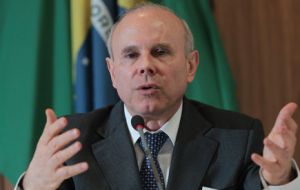 Brazilian industrial production rose a stronger-than-expected 0.3% in July from June, government statistics agency IBGE said on Tuesday. July was the second positive number following three straight months of declining output.
A host of government measures have helped to a pickup in automobile production and capital goods manufacturing. However July's industrial production fell 2.9% from a year earlier
Some economists think it may be too early to point to a recovery in the troubled sector, as a global economic crisis continues to sap demand for Brazilian goods and manufacturers struggle under a heavy tax burden, a shortage of skilled workers and inadequate infrastructure.
Intent on reviving growth the Brazilian central bank has chopped the benchmark interest rates to an all-time low of 7.5% and the administration of President Dilma Rousseff has provided industries and consumers with tax breaks, and vowed to step up government purchases of industrial goods.
Following the release of the industrial output data, yields on interest rate futures rose across the board as traders cut their bets on further interest rate cuts to help stimulate growth.
Brazil's central bank is widely expected to cut rates by 25 basis points next month, after which it will likely keep rates stable.
The softness in Brazilian industry, which contracted 2.5% in the second quarter from the first, has largely foiled government efforts to jump start the country's economy, which grew a slower than expected 0.4% in the period.
Finance Minister Guido Mantega told reporters last week that industry should continue to recover thanks to recent incentives for the automotive, construction and home appliances sectors.
Of the 27 industrial sectors surveyed by IBGE, 12 expanded in July from June, including automobiles, foods, and machinery. In broader industrial categories, output of capital goods, which were most heavily hit during the recent economic crisis, led gains, rising 1% for the month, the IBGE said. Production of durable consumer goods rose 0.8% from June, and intermediate goods rose 0.5%.