Real estate sales in Buenos Aires City lose steam for eighth month running
Wednesday, September 5th 2012 - 06:13 UTC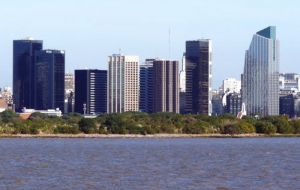 Real estate sales in Buenos Aires City dropped for the eighth month running in July and 27.6% over a year ago because of the US dollar clamp according to the monthly evolution index of sales documents from the Notaries College of the Argentine capital.
The overall annual turnover was down 22.9% to 1.78 billion Pesos while the average price for each operation was 435.616 Pesos (approx 95.000 dollars), which actually represents a 6.5% increase but the lowest since September 2010. The exchange rate for the US dollar is 4.65 Pesos, but 6.45 Pesos in the parallel or informal market.
Compared to 2011 the average operation price was down 14.1% in Pesos and 15.1% converted to US dollars.
According to the notaries association the eighth consecutive fall in real estate operations has not occurred since 2009, in the midst of world recession and when the Argentine economy just managed to grow.
Actually operations showed a slight recovery in May and June but it did not sustain in July. The July contraction was the highest over the previous month, according to the stats going back to 1988.
In the seven months to July the number of real estate operations in the city of Buenos Aires totalled 28.057, which represents a 17.6% contraction compared to the same period of time in 2011.
Finally the notaries association indicates that the market remained concentrated in the 250.000 to 500.000 Pesos bracket, representing 58% of all operations.
The administration of President Cristina Kirchner has imposed severe limits on access to US dollars and has strongly recommended that Argentines hold their savings in Pesos and make business in Pesos.
Argentina is short of dollars to finance imports, pay the fuel bill and cancel debt payments, thus the clamp on US dollars, the severe imports' restrictions and promotion of domestic industries to substitute imported goods.
But since Argentina has a long history of inflation, hyper inflation and currency manipulation major transactions such as those in the real estate market are quoted and done in US dollars.