Argentine Security ministry tells local police not to follow Cristina Fernandez
Thursday, September 6th 2012 - 05:55 UTC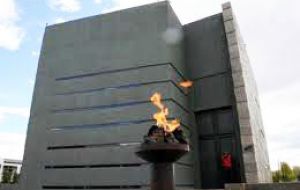 Argentina's Security Ministry issued a tough press release in response to the alleged police operative deployed by the Santa Cruz government in order to monitor the activities of President Cristina Fernández last weekend.
The press release reassured that the President's security is responsibility of the National Security Forces and asked Santa Cruz Governor Daniel Peralta to refrain from further monitoring Cristina Fernández actions.
"All of the President's non-official activities in the Santa Cruz province are monitored exclusively by the National Security Forces," the ministry explained.
The statement also assured that these forces "have no contact with the provincial police," dismissing a previous statement by Santa Cruz Government minister Paola Knoop, who they accused of making false statements.
"We have warned that ministry to abstain from monitoring the Head of State's movements" while she is in her home province engaging in private activities.
Over the weekend, rumour had it that the Santa Cruz police had closely followed the President's activities while she was staying there. According to the same sources, the orders for such operation came from Governor Daniel Peralta himself.
Cristina Fernandez and her late husband former president Nestor Kirchner started their successful political lives in the extreme south of Argentina in the province of Santa Cruz, from where the Kirchner family is.
Kirchner was several times governor of the province before running for president and his wife was federal senator for Santa Cruz and later Buenos Aires province, before she was elected president in 2007.
Kirchner is buried in Santa Cruz and the family has most of their assets in the province so Cristina Fernandez, whenever possible, flies to the capital Rio Gallegos or the El Calafate resort, which she considers her home and where her eldest son lives.