In 2015, "if it's not Cristina, it will be whoever Cristina nominates as candidate"
Tuesday, September 18th 2012 - 07:02 UTC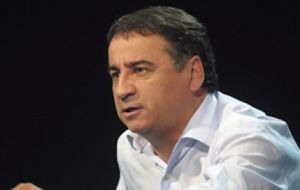 The possibility of a constitutional review in Argentina opening the way for the re-re-election of President Cristina Fernandez was again put to consideration by one of her staunch followers who nevertheless anticipated "if it's not Cristina, in 2015 it will be whoever Cristina nominates as candidate".
"We already have 2015 decided: it's Cristina, if she wishes, or whoever names Cristina", said Victory Front lawmaker Edgardo Depetri. "Nobody can launch candidates outside the leadership and decision of the President of the Nation, Cristina Fernandez".
Depetri also revealed that the idea of a counter-march to match last Thursday's massive protests in Buenos Aires and other Argentine cities was "never under discussion" because "we are building our own force, looking after people's challenges, working in the political and social debate, next to the President, but never confronting any sector that may emerge in the Argentine political debate".
He went on to blame the media for the rumours "which are intended to create levels of confrontation and polarization, with political analysis that might help with headlines, but have nothing to do with reality".
Likewise lawmaker Depetri admitted that last Thursday "we listened to a very, very strong and disqualifying speech" from protestors "clearly confronted with the national government who are the same that went pot-and-pans banging in support of Blumberg (demonstrations demanding law and order and an end to police corruption); of resolution 125 (farmers' conflict) and to condemn the media law", which is to be implemented next December.
"There is a clear link in all these events, which has seen this social sector vote against the government and has also seen it support any demonstration against this model of national development", pointed out Depetri.
Specifically questioned about a review of the Argentine constitution, Depetri said "no decision has been taken by the president or any member of the Executive branch to propel the issue; furthermore any statement in support of the initiative must be seen as "personal opinions".
Depetri's statements follow on comments from cabinet chief Juan Manuel Abal Medina which allegedly were considered too offensive and even divisive inside the government of President Cristina Fernandez.
Reacting to the massive protests the cabinet chief said demonstrators were more interested "in Miami than in knowing what was going on in Argentina" and that "those participating in the demonstrations were the same that supported military coups".
He added these people "never voted for the government, and will never do".
In related news Buenos Aires province Governor Daniel Scioli reiterated his support for a possible attempt of re-re-election by President Cristina Fernández.
"As I have said before, if Cristina runs I will support her. However, as she herself was said, first we still have a mandate to fulfil".